Former leader Mohamed Nasheed arrested in Maldives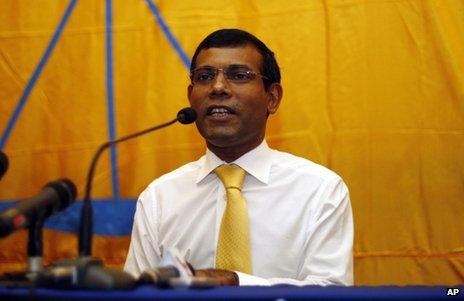 Police in the Maldives capital, Male, have arrested former President Mohamed Nasheed for alleged abuse of office, after months of political tension.
Mr Nasheed was detained after failing to attend a hearing and ignoring two arrest warrants, police said.
He is accused of illegally ordering the arrest of a top judge - a charge that he says is politically motivated.
That incident sparked unrest which saw Mr Nasheed, the country's first democratically elected leader, resign.
He has announced plans to stand for president again in September but would be barred from standing if given a jail sentence by the court.
Mr Nasheed is now due to appear in court on Wednesday, police said.
An unconfirmed report spoke of clashes between his supporters and police when they came to arrest him.
He was elected as president of the Indian Ocean archipelago in 2008.
He argues that he was forced to quit in February 2012 under duress after soldiers and police mutinied and overran his party's headquarters in Male.
But his successor, Mohamed Waheed Hassan Manik, who had been serving as his vice-president, insists Mr Nasheed left of his own accord after opposition-led protests.
Last month, Mr Nasheed briefly took refuge in the Indian High Commission in Male. Delhi has tried to mediate in his dispute with Mr Manik.