Fiji police to investigate abuse video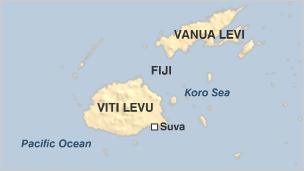 Fiji police have launched an investigation after a video showing two men said to be escaped prisoners being brutally beaten appeared online.
The graphic nine-minute video shows several men hitting two handcuffed men with batons and hammers, and setting a dog on one of the men.
The identity of the attackers is not clear, and the group were dressed in civilian clothing.
Fiji police said they were "determined to expeditiously resolve [the] issue".
"Like every Fijian, we were disturbed to see the video that has emerged of what appears to be the abuse of two men who, at this stage, we understand to be recaptured prisoners," they said in a statement.
Amnesty International said the footage appeared consistent with earlier reports of brutality against prisoners by the Fijian military, although it could not verify the footage.
"The Fijian authorities must treat this shocking footage with the utmost seriousness and immediately initiate an independent investigation," said Roseann Rife of Amnesty International.
Fiji police said that their investigation would meet international standards, and urged people not to prejudice the probe with speculation.
Fiji's military seized power in a bloodless coup in 2006, Fiji's fourth coup in 20 years. Elections have been promised for 2014.