Will Burma's opposition party adapt?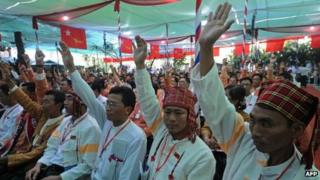 Two years after reforms began in Burma, the opposition National League for Democracy (NLD) - for decades banned or restricted - has held its first congress in Rangoon. The BBC's Jonah Fisher, who was at the congress, looks at whether Aung San Suu Kyi's party can adapt to the challenges of a new political era.
There was never any doubt that Aung San Suu Kyi would remain leader of her party.
So the focus of this first congress of the NLD was the choice of those picked to work alongside her.
Could a party criticised as ageing, ineffective and out of touch relaunch itself with younger, more dynamic leaders?
Viewed purely in numerical terms, that did not materialise. This was not "out with the old and in with the new".
Instead the party's powerful executive committee was elected for the first time and expanded from seven members to 15.
All those previously appointed to the committee kept their places. Among the new blood were U Kyaw Khin and U Nyi Pu, both in their 70s.
By rough calculations, the average age of the committee appeared to drop slightly, to about 63. But half of Burma's population is under 27.
'Strong confidence'
On each of the two main days of the congress, proceedings started with delegates bowing their head and a mantra being chanted.
The words honoured the sacrifice made by the martyrs of Burma's liberation struggle, like Ms Suu Kyi's father, General Aung San.
There was then a pause of eight seconds to remember those who died in the pro-democracy uprising which began on 8 August 1988.
It was in September of that year that the NLD was formed.
Then in the 1990 general election that followed, the party did spectacularly well, winning nearly 80% of the seats.
Unwilling to relinquish power, Burma's military junta cancelled the results and placed NLD leaders like Ms Suu Kyi either under house arrest or in prison.
For more than two decades the NLD struggled simply to survive, enduring lengthy periods when it was either banned or forcibly suppressed.
But two years of political reforms in Burma have seen the party's fortune transformed.
A triumphant performance at by-elections last year has seen Aung San Suu Kyi take up a seat in parliament and raised hopes of a win in the general election of 2015.
"All the NLD members old and new believe that in the coming election we will win," U Win Tin, one of party's founders, said. "We have very strong self-confidence."
But that will not necessarily mean a President Suu Kyi. For that to happen, Burma's constitution will have to be changed.
A clause specifically designed to thwart the 67-year-old currently prevents anyone who has been married to a foreigner taking the top job. Ms Suu Kyi was married to a British man, Michael Aris, who died in 1999.
The Nobel laureate is ambitious and is known to have her eyes firmly fixed on becoming president. To date though she has not forced the issue of constitutional change.
Keeping the Burmese army tolerating, if not necessarily backing, political reform is a delicate balancing act.
Thorny issues
Each morning at the congress, once respect had been paid to past heroes, Aung San Suu Kyi gave a short speech to the delegates.
On Saturday, she dwelled on the power struggles which she said she was aware of within the party.
Then on Sunday she alluded to one of the NLD's thorniest and most sensitive internal issues - whether her own stratospheric profile was stunting the party's development.
"When I met the new members of the executive committee, I asked them, 'Are you afraid of me?'" she said.
"They did not reply so I said there's no need to be afraid if you do things the right way. Don't be afraid of me or other leaders in the party."
But as U Win Tin told me, Ms Suu Kyi's "heritage", intellect and her experience make it hard for anyone to challenge her on questions of policy.
There was no need to vote on the position of chairperson. Ms Suu Kyi's position was confirmed unopposed by the executive committee.
For the last quarter of a century, NLD leaders have talked of little else but democracy and human rights. But their dealings with the media at the congress pointed to a party wary of the press and unwilling to trust its own delegates.
After each of Ms Suu Kyi's addresses, the journalists were ushered out to allow the NLD to continue its business behind closed doors.
Getting a sense of how the nearly 900 delegates felt about what was taking place was also difficult.
A party circular banned delegates from speaking to the media at the venue. Those that did were quickly issued with official warnings by party officials.
It is still very possible that Burma's reforms will stall or even be reversed. But if the 2015 election does go ahead and is run fairly, it seems likely that Aung San Suu Kyi will deliver victory for the NLD.
Once the euphoria dies away, a new government will need capable decision-makers to run its ministries. The NLD now has two years to show it has the required depth beyond its charismatic leader.