Living Black: Australia's trail-blazing indigenous show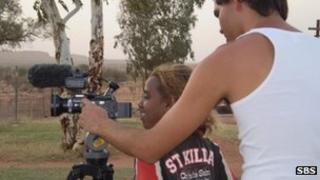 Australia's trailblazing indigenous TV programme "Living Black" is celebrating a decade of bringing stories of triumph, resilience and tragedy to a national audience.
The country's longest-running indigenous news and current affairs show has survived tight budgets and management changes to become a beacon of broadcasting in a country where indigenous life can be ignored by the mainstream media.
"It is a unique programme that is filling a void," said Karla Grant, presenter and executive producer at the Living Black studio in Sydney. "No one else is doing the stories that we do."
"We are closer to the issue because we may have faced it within our own families. Our programme gives indigenous people a voice right across the country," she said.
The programme's small production crew is responsible for 26 episodes each year that aim to give in-depth coverage of social justice, employment, health, and housing issues.
All are areas of crisis that make Australia's first peoples its most disadvantaged.
"There is a perception within mainstream media that indigenous issues and stories don't rate," Karla Grant said.
"We are very sensitive to the issues and people warm to us, but we have to be objective, and fair and balanced," she adds.
'Turning point'
The keys to Living Black's longevity are unparalleled access to remote communities where outsiders are often seen with suspicion, and a willingness to conquer vast distances.
Only five other countries are bigger than Australia, which is almost as long as it is wide.
Living Black's team of three video journalists reports from places where others cannot or will not tread.
In an episode marking 10 years on 12 March, the programme touched on the sensitive yet pivotal issues that have defined the programme.
These included the deaths of young children neglected by their alcoholic mothers, the historic parliamentary apology in 2008 to Aboriginal youngsters forcibly taken from their families by white authorities and allegations of police brutality.
Linda Burney, the first indigenous Australian to be elected to the New South Wales state parliament, says that there is "not a great deal of specific Aboriginal media" in Australia.
"Living Black sends positive messages about Aboriginal Australia. The mainstream media doesn't send many positive messages but a show like Living Black, hosted by an Aboriginal woman, is really important in projecting that image," she said.
Living Black returned to the screen this month on Special Broadcasting Service (SBS) TV, the home of multilingual and multicultural programming in Australia, and is also broadcast on National Indigenous Television (NITV), which became a free-to-air service in December.
For Susan Moylan-Coombs, the head of production at NITV, last year's move from pay television to the channels at SBS was a turning point for indigenous Australians.
"It is the moment in history that the healing will start," she said.
"It was huge for us to go from subscription television to free-to-air. Finally every single person in this country who has a TV set could tune into us."
'Warts and beauty'
The healing, she explains, will come from indigenous Australians "telling their own stories" that a mainstream audience can now digest.
"We want to share warts and all the beauty, the tears and the history of this country from our perspective," said Ms Moylan-Coombs.
"I think general Australia will see our point of difference and enjoy that, and change their perspective. I see in five to 10 years time the consciousness of this country will change dramatically."
There has been a long history of indigenous creativity in Australian television, radio and filmmaking.
The biggest impact has, however, not been felt in news and current affairs but drama, where an impressive tradition has been enhanced by recent TV productions including "Redfern", a gritty tale of life in inner-city Sydney shown at prime-time on the Australian Broadcasting Corporation.
There has also been a swag of movies, most notably The Sapphires, Samson and Delilah and Bran Nue Dae.
Linda Burney believes that these accomplished works, along with Living Black and NITV, are finally having a meaningful effect on the way non-indigenous Australians consider their black cousins.
"There has never been a time in this country where mainstream Australia knows more about Aboriginal people," she said. "So we have a young generation of Australians growing up not thinking of Aboriginal people [being] on the margins of society."