Philippine high court delays contraception law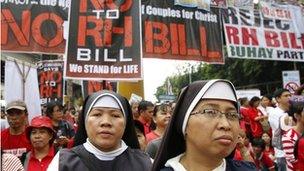 The Philippines' top court has delayed implementation of a controversial law providing free access to contraception and family planning.
The Supreme Court's decision stops implementation of the reproductive health law pending oral arguments on 18 June, a court spokesman said.
President Benigno Aquino signed the law, which took 14 years to pass, on 29 December.
But it has been met with opposition from groups like the Catholic Church.
Presidential spokesman Edwin Lacierda said the government would respect the court's decision, and it was confident about defending the law's merits.
Petitioners who questioned the law's legality welcomed the court's decision.
Supporters of the law, however, say it should be implemented because it will help reduce poverty and maternal mortality in a country with the highest birth rate in the region.
More than 80% of the population in the Philippines is Catholic, and the Church has had the support of many politicians and pro-life groups.
Related Internet Links
The BBC is not responsible for the content of external sites.