Australia smashes drug ring with links to Asia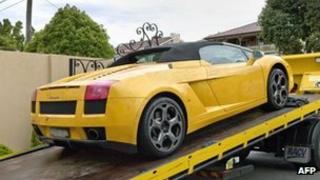 Australian police said they have smashed an international crime syndicate with links to Asia, seizing drugs and assets worth millions.
The year-long investigation has seen at least 27 people arrested and A$4m ($4.2m, £2.7m) in cash confiscated.
Australian police worked with law enforcement in China, Hong Kong, Macau, Thailand, Malaysia, Vietnam and Burma to target the syndicate.
The crime ring was run out of Sydney and Melbourne, according to reports.
Police seized 42kg (92lb) of drugs in a series of raids, in addition to thousands of dollars in casino chips, expensive jewellery, designer handbags and a luxury car.
"It is alleged that the syndicate has targeted Australia over a number of years, importing and distributing large amounts of illicit narcotics, laundering the profits overseas and living off the wealth obtained from crime," a statement from the police in Victoria state said.
"This operation will have a significant impact on the syndicate internationally and shows how successful joint partnerships are in combating organised crime groups targeting Australia," said David Sharpe, from the Australian federal police.
Investigations are currently ongoing and further arrests may be likely, police added.