US sees 'no changes' to North Korean military posture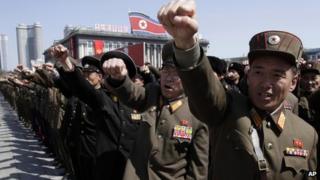 The US says it is seeing no signs of increased military activity in North Korea, even as it positioned a warship close to the Korean peninsula.
The US had not "seen action to back up the rhetoric", an official said.
But in the latest show of military hardware, officials said a destroyer capable of intercepting missiles was being moved to the Korean coast.
North Korea said on Saturday that it was entering a "state of war" with South Korea.
"Despite the harsh rhetoric we're hearing from Pyongyang, we are not seeing changes to the North Korean military posture, such as large-scale mobilisations and positioning of forces," White House spokesman Jay Carney said.
But he said the US was "monitoring the Korean situation very diligently".
Tensions are high in the Korean peninsula following North Korea's third nuclear test in February, and multiple threats in recent days from Pyongyang against US and South Korean targets.
North Korea has been angered both by UN sanctions imposed after its nuclear test and joint US-South Korea annual military drills.
'Important steps'
The US has responded to the threats with high-profile flights of advanced military aircraft over South Korea.
On Sunday, it sent F-22 stealth fighters to South Korea, as North Korean leaders pledged to build up the country's nuclear arsenal at a rare meeting.
In March, the US also deployed B-2 and B-52 planes, which have nuclear capabilities, over South Korea.
"The actions we have taken... have been important steps to reassure our allies, demonstrate our resolve to the North and reduce pressure on Seoul to take unilateral action," Mr Carney said.
"We believe this has reduced the chance of miscalculation and provocation."
Defence officials told reporters that an Aegis-class warship capable of defending against missile strikes had been moved to the southwest coast off South Korea.
This would offer "greater missile defence options should [they] become necessary", an official told Reuters news agency, speaking on condition of anonymity.
North Korea has in recent weeks threatened missile strikes on US bases in Asia, including in Japan and South Korea, as well as South Korean border islands.
On Monday, South Korean President Park Geun-hye said that she took the threats from Pyongyang "very seriously".
"If there is any provocation against South Korea and its people, there should be a strong response in initial combat without any political considerations," Ms Park said.
Sustained rhetoric
South Korean Foreign Minister Yun Byung-se will meet US Secretary of State John Kerry on later on Tuesday to discuss North Korea.
Mr Kerry is also due to visit South Korea as part of his trip to Asia next week.
While North Korea has issued many threats against the US and South Korea in the past, recent days have seen unusually fiery and sustained rhetoric.
North Korea has also held two top-level meetings in recent days.
On Sunday, North Korea's Central Committee described nuclear weapons as "the nation's life" and vowed to further develop its nuclear programme.
On Monday, North Korea's Supreme People's Assembly, which normally focuses on making economic decisions, endorsed plans to give nuclear weapons "greater prominence" in the country's defences.
But the jointly-run Kaesong industrial park, an important money-maker for North Korea which is seen as a key barometer of inter-Korean tensions, remains in operation.