Indonesian special forces admit prisoner killings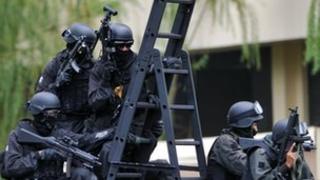 The Indonesian army says members of the country's Kopassus special forces were behind the murders of four prisoners suspected of killing a soldier.
The four men were being held in a jail in Jogjakarta, Java, when nine masked men armed with AK-47 rifles stormed the facility at midnight on 23 March.
The army says the guilty soldiers are now willing to face the consequences.
The incident has called into question the extent of military reform since the transition to democracy began in 1998.
The army says the murders were carried out in retribution for the 19 March killing of a Kopassus soldier at a cafe.
Human rights groups say the involvement of members of the Kopassus unit in the raid on the jail is troubling.
Under former President Suharto, who ruled the country between 1967 and 1998, Kopassus was accused of human rights violations and of carrying out forced disappearances.
The BBC's Karishma Vaswani in the the Indonesian capital Jakarta says that the army's decision to admit that special forces soldiers were responsible for the killings is significant, but cautions that it remains to be seen what punishment those accused will actually receive.