North Korea: Embassies stay despite security warning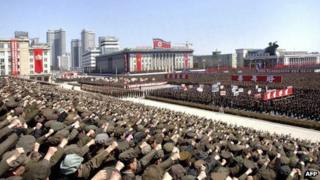 Foreign embassies in the North Korean capital Pyongyang have played down warnings from Kim Jong-un's government over their safety.
On Friday North Korea warned it would not be able to guarantee the safety of embassy staff in the event of a war.
The UK Foreign Office, which has an embassy in Pyongyang, described the warning as "continuing rhetoric".
US and South Korean officials have sought to play down fears of a conflict on the Korean peninsula in recent days.
No foreign embassies have announced plans to evacuate, and the UK and Russian embassies have said they have no immediate plans to shut their embassies.
The UK has maintained a diplomatic presence in North Korea since 2001, led by Michael Gifford, the current UK ambassador.
China urges dialogue
Meanwhile China, traditionally a North Korean ally, has reportedly urged dialogue between North Korea and the international community.
On Saturday Chinese media reported telephone discussions between the Chinese Foreign Minister, Wang Yi, and UN secretary general Ban Ki-Moon.
The talks stressed that dialogue was the only way forward and that "China would not allow any trouble at its door step".
John Kerry, the US secretary of state, is due to visit China in the coming week, along with South Korea and Japan, where talks are expected to focus on North Korea's nuclear programme and escalating threats against the US and its allies.
US officials have said they would not be surprised if North Korea launched a missile, and are moving a missile defence system to its Pacific island territory of Guam.
But they have also played down fears of an all-out conflict on the Korean peninsula.
North Korea has issued a series of unusually strong threats since it was sanctioned by the UN in March for having carried out a third nuclear test.
It has threatened nuclear strikes on the US, formally declared war on the South, and pledged to reopen a nuclear reactor in defiance of UN Security Council resolutions.
The movement of missiles within North Korea has sparked concern, but it is not clear how well developed its missile technology is.
North Korea has not taken direct military action since 2010, when it shelled a South Korean island and killed four people.