'Stern test' for Kerry over Korea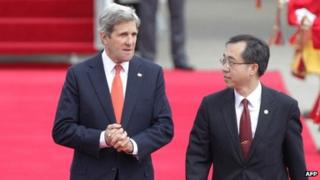 As North Korea threatens a new missile launch, US Secretary of State John Kerry will reassure allies in Seoul and Tokyo about American support, but his diplomatic skills will be tested in Beijing.
The four-day tour of Asia is Mr Kerry's first visit to the region and his first diplomatic crisis since starting in his new job.
North Korea has threatened to launch a mid-range missile in the coming days.
American officials have speculated that the launch could take place on 15 April, the birthday of the country's founder Kim Il Sung. He is the grandfather of current leader Kim Jong-un.
A US official in Seoul said that they were keeping a close watch on developments and were worried about a miscalculation by the young, inexperienced North Korean leader.
But the official was also keen to emphasise that there were no mass troop movements inside North Korea.
Other officials indicated the latest tension was part of a cycle that people had to wait out.
"The launch of a Musadan missile is one of many potential provocations that could happen that could give Kim Jong-un an off-ramp," said the US official in Seoul.
He explained that the launch would be a way for the North Korean leader to tell his citizens that he had stood up to the world and could now back down from his rhetoric and save face.
Tempestuous neighbour
US diplomatic meetings with North Korea have so far been limited and proven fruitless. In Seoul and Tokyo he will go over preparations to deal with North Korea's expected missile launch and explore ways to move beyond the crisis.
But diplomatic prowess will be required in Mr Kerry's conversation with the Chinese in Beijing.
Short of engaging North Korea directly itself, the US believes the best way forward is to get China to exert more influence on North Korea.
"It's no secret that China has the most leverage, the most influence over North Korea," a senior state department official told reporters travelling with Mr Kerry. "We want to see them use some of that leverage."
Washington has hoped for years that China would rein in its tempestuous, smaller neighbour and client state.
American officials regularly convey their impression that the Chinese are getting frustrated with Pyongyang.
But the frustration rarely translates into Chinese pressure over North Korea or even a public rebuke.
American officials insist that their efforts to engage the Chinese on this issue have come a long way and are paying off.
They point to the last round of sanctions imposed on North Korea in February, which China approved.
Last week Chinese President Xi Jinping warned that "no-one should be allowed to throw a region and even the whole world into chaos for selfish gains", prompting renewed American hope that China's patience with North Korea was running out.
'No further provocations'
Beijing appears increasingly concerned about the consequences of North Korea's behaviour on its own strategic interests in the region.
"We want to see them do what the Japanese do, what the South Koreans do, which is to stick to UN sanctions," the senior state department official said, "and help stem the money trail to Pyongyang."
The secretary of state will also press on the Chinese that any engagement with the North Koreans must be clearly conditioned on de-nuclearisation.
On Thursday, South Korea appeared to soften its tone on North Korea, calling on Pyongyang to come to the dialogue table to resolve problems like the Kaesong industrial complex.
There was no mention of de-nuclearisation and South Korea's Unification Minister Ryoo Kihl-jae stopped short of a formal offer of dialogue.
American officials were eager to dispel any impression that the US and South Korea were diverging on how to deal with North Korea.
"The South Koreans are prepared to move forward on small things, like some humanitarian assistance, if there are no further provocations," the state department official said.
Any missile launch or other similar expected provocations seem already to be factored in.
US officials praised South Korean President Park Geun-hye's handling of the crisis so far, saying they could not "imagine how she could have done it better".
Mr Kerry will hold talks with Ms Park in Seoul. His experience and knowledge in this part of Asia is limited.
A Vietnam war veteran who was later deeply involved in normalising relations with Hanoi, Mr Kerry did not focus much on North-East Asia during his 29 years as a senator on the foreign relations committee.
Since starting his job as secretary of state in February, Mr Kerry has devoted most of his energy to the Middle East and has also indicated climate change is a priority for him - two intractable issues for different reasons.
Despite the Korean crisis, Asia is still seen as an area of positive gains and co-operation for the Obama administration.
In all three countries he will be visiting, Mr Kerry will find new leaders - Ms Park was inaugurated in February, Xi Jinping came into office in March and Japanese Prime Minister Shinzo Abe came to power in December.
Senior officials travelling with Mr Kerry said that the exchange with those leaders would not be burdened by perceptions of American decline, unlike during Hillary Clinton's maiden voyage to Asia as secretary of state in February 2009, in the midst of financial crisis.
The investment in Asia during Mr Obama's first term and the work done by Ms Clinton over the last four years has bolstered American credibility and influence in Asia and set the stage for Mr Kerry to begin sketching out with allies in the region "what we want to achieve over the next four years".
China's efforts to assert itself in the region over the last few years has pushed traditional American allies like Japan and South Korea - but also countries like Vietnam - closer to Washington.
In a bitter irony for China, the unpredictable behaviour of its own ally, North Korea, means that the US will only continue to strengthen its position in Asia.