Red Cross halts 'pointless' Uzbekistan prison visits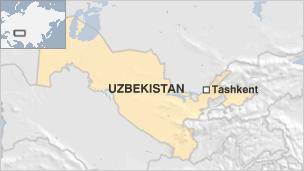 The International Committee of the Red Cross is stopping all jail visits in Uzbekistan owing to what it calls the authorities' "unconstructive attitude".
ICRC Director-General Yves Daccord said it was essential to speak to detainees in private without witnesses.
This was not happening in Uzbekistan, so the visits were pointless, he said.
Uzbekistan's human rights record under President Islam Karimov has repeatedly been criticised by Western campaign groups.
Mr Karimov's government has yet to comment on the ICRC's move.
A UN report has described the use of torture in Uzbekistan as "systematic". There is no legal political opposition and the media are tightly controlled by the state.
The ICRC's detainee visits in Uzbekistan had already been suspended for several months.
"Visits must have a meaningful impact on detention conditions, and dialogue with the detaining authorities must be constructive," said Mr Daccord. "And that's not the case in Uzbekistan."
"In Uzbekistan we are unable to follow our standard working procedures when we visit detainees to assess the conditions in which they are being held and the treatment they are receiving.
"As a result, we cannot address humanitarian issues, and that renders any visits pointless."
He stressed the decision to terminate visits to places of detention was a rare occurrence that was never taken lightly.
The ICRC says it visits detainees all over the world with the aim of improving their situation and easing their suffering.
The group said it visited detainees in Uzbekistan between 2001 and 2004, during a six-month trial period in 2008, and from 2009 to October 2012.
Related Internet Links
The BBC is not responsible for the content of external sites.