Preah Vihear temple: UN court hears Thai-Cambodia dispute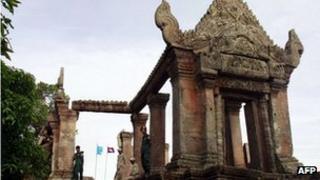 The UN's highest court has begun hearings on the ownership of land beside an ancient temple on the Thai-Cambodian border.
The International Court of Justice (ICJ) ruled in 1962 that the Preah Vihear temple belonged to Cambodia.
However, a border dispute remains over the surrounding areas of land, which both Cambodia and Thailand claim.
Fighting in the area in April 2011 left 18 people dead and tens of thousands displaced.
Both sides agreed to withdraw troops from the disputed area in December 2011.
On Monday, Cambodian Foreign Minister Hor Namhong said that the dispute had "darkened relations" between the two countries.
He warned that failure to clarify the boundaries would "probably have unfortunately consequences which would prevent the two states from living in a friendly, peaceful and co-operative environment".
Thailand, which will make its case on Wednesday, said that it would "fight the case transparently and with [its] best effort".
Thailand was broadcasting the hearing live on its state-run television channel on Monday, AFP news agency reported.