Activists 'horrified' at Taiwan executions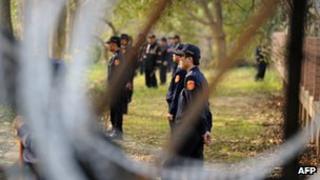 Taiwan has executed six prisoners, the second time in six months a group of six has been put to death.
The ministry of justice said the prisoners were anaesthetised and then shot. Reports said most of them were responsible for multiple killings.
Anti-death penalty group the World Coalition said it was "horrified".
The activists said in a statement that Taiwanese leaders had promised during meetings in recent weeks to reduce the island's use of the death penalty.
The World Coalition had been visiting Taiwan to assess its implementation of various human rights treaties, and held meetings with officials including President Ma Ying-jeou.
"The World Coalition was told by these officials that although Taiwan would not abolish the death penalty overnight, its intent is to reduce the use of the death penalty," the organisation said.
"Executing six people is not part of a process of reducing the use of the death penalty."
Activists say Taiwan breaks international treaty obligations because it provides no procedures for death-row inmates to seek a pardon or commutation of their sentence.
Taiwan restarted its use of the death penalty in 2010 after a five-year moratorium.
The ministry said there were now 50 death-row inmates in the island's jails.
The issue was thrust into the spotlight in 2011 after a soldier who was executed for murdering a child was subsequently proved innocent.
Opinion polls generally show public support for retaining the death penalty.