Floods and earthquake kill at least 24 in Afghanistan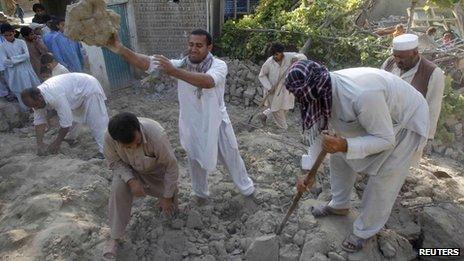 At least 24 people have been killed after flash floods and an earthquake hit Afghanistan.
Torrential rain brought down buildings and left at least 14 dead in the northern province of Balkh.
The provinces of Nangarhar and Kunar, on the country's eastern border with Pakistan, were worst affected by a 5.6-magnitude earthquake.
At least 10 people were killed and many more were injured in the tremors.
Nine people, including a child, died in Nangarhar, according to officials and doctors. Another person is thought to have died in neighbouring Kunar.
Hundreds of homes collapsed during the quake, which struck at about 14:00 local time (09:23 GMT).
The city of Jalalabad was affected, as well as more rural areas.
"People have lost their homes, and have nowhere to go but spend the night in the open in the rain,'' said Malik Masoom Akhundzada, a chief tribal elder in the district of Khas Kunar.
The earthquake had its epicentre near the town of Mehtar Lam, about 30km (17 miles) north-west of Jalalabad, according to the U.S. Geological Survey.
It was also felt in the Afghan capital, Kabul, and as far away as Islamabad.
It comes a week after a powerful quake centred in south-eastern Iran left dozens dead in Pakistan.
Wednesday's floods in Balkh province also left a huge number of people homeless as more than 2,500 homes were destroyed or washed away, according to the local government.
Officials said Sholgara, Kishindi and Kamp-e-Sakhi in downtown Mazar-e-Sharif city were the worst affected areas.
The district governor of Sholgara, Sarajudin Abid, said hundreds of hectares of land had been destroyed in dozens of villages in the remote and mountainous district.
Livestock also died, Mr Abid added. Local villagers told the BBC that sheep, cattle and chicken were among the animals killed in the flash floods.
Parliament members from Balkh province have appealed for government help for the affected families.