South Korea proposes Kaesong talks with North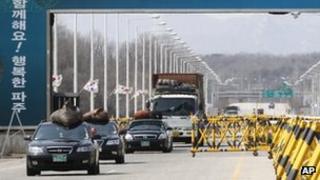 South Korea is proposing formal talks with the North over restarting operations at the jointly-run Kaesong Industrial Complex.
Unification Ministry spokesman Kim Hyung-suk warned of "grave measures" if the North did not agree to the talks.
Pyongyang blocked South Korean access to the site and pulled out its 53,000 workers earlier this month.
Tensions between the Koreas are high following the North's third nuclear test in February.
"The government today officially proposes to hold working-level talks between the authorities of the South and North to resolve humanitarian issues affecting Kaesong workers and to normalise Kaesong industrial zone," Mr Kim said.
He said Pyongyang should respond to the offer by Friday, and said it would face "grave measures" if it rejected the offer.
He did not elaborate on what the measures would be, although some analysts believe the South would withdraw the 176 South Koreans still at the complex, which is located inside North Korea.
The remaining South Korean nationals in the park were "suffering serious difficulties due to the shortage of food and medicines", Mr Kim said.
South Korean companies were also "suffering big damages and pains", he added.
Financial measures
On Wednesday, South Korea announced government measures to help firms affected by North Korea's closure of the industrial zone.
Companies would be given tax relief, special loans and work training for those who lost jobs, AFP news agency reported.
North Korea has been angered by tightened UN sanctions following its third nuclear test, and joint military drills between the US and South Korea.
In recent weeks, it has threatened to attack South Korea, Japan and US military bases in the region.
It has prevented South Koreans from entering the industrial zone since 3 April, and pulled out the 53,000 North Korean workers at the park on 9 April.
Kaesong Industrial Complex was launched in 2003 as a sign of North-South co-operation, and is considered a key indicator of relations between the two Koreas.
It was the biggest contributor to inter-Korean trade and provided the North with much-needed hard currency.