Dhaka collapse: Rescue operation's search for survivors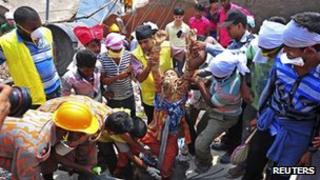 Amidst all the chaos and depressing scenes, there was some jubilation when a rescue team leader announced that they had found more people alive in a particular pocket inside the rubble.
Rescue teams have been frantically searching for survivors as they are aware that they are racing against time.
The heat and the dust could take its own toll. Now rescue teams are using cranes and diggers.
Some rescue workers also needed treatment as they had been working without a break since the incident on Wednesday. The broken concrete blocks are precariously placed and there are concerns for rescue workers as well.
I met a few grieving family members of those who were working inside the building at the time of the collapse. They were holding the photographs of their loved ones and crying endlessly.
Elsewhere, a young girl was pulled out of the rubble alive but rigid with shock.
When more people are pulled out alive, that gives lots of encouragement to the rescue workers, many of whom are local volunteers.
Officials say they will continue their rescue efforts for the next few days.
The incident has already triggered anger among garment factory workers, who have been holding protests in some places in Dhaka.
Garment factory owners and Western retailers are likely to face tough questions from labour rights campaigners in the coming weeks.