Dhaka building collapse: Shattered lives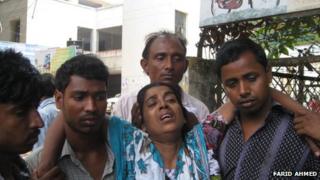 Kamola Begum could not stop her tears for even a moment as she waited to receive her husband's body.
Mohammad Hanif, 42, was among several hundred garment workers who died when a building collapsed in Savar near Dhaka last week.
"Oh Allah! How am I going to feed and raise my daughters?" his widow asks, before she faints.
Half an hour later she is conscious again, weeping.
Mohammad Hanif was the lone bread-winner for his family of four.
He was a supervisor in one of the garment factories, which was housed in the Rana Plaza building.
Kamola Begum says that Hanif received a phone call from the factory owner ordering him to go to work.
"I pleaded with him not to go, but he said there was a shipment order and he might get a month's salary too. Now he is dead.
"I can't see my future. It's dark," she says. "I have no option but to rely on support from the government."
'Desperately looking'
Some 3,000 people were thought to have been working in the Rana Plaza when it collapsed.
A bank and a number of shops in the building were shut after a crack was noticed a day earlier - but the three textile factories remained open, and workers were summoned in.
Among them was a sewing machine operator, 32-year-old Salma Begum.
She had left her 12-year-old son Saleh at home.
"My mother gave me food before she left for duty. I heard about the collapse and rushed over there. I was desperately looking for her, but she was missing," Saleh says, bursting into tears.
"We found her body after four days of frantic searching."
Saleh says he loved his mother very much, even when she scolded him for not studying.
"My mother used to ask me all the time why I wouldn't study. But I didn't listen. I dropped out of school.
"Who will scold me now?" he says, crying again.
Saleh has two sisters. His father Mostafizar, 38, is a rickshaw-puller, who transports goods in the local area.
He came to Savar from Rangpur, a district in northern Bangladesh, hoping for "a better life", he says.
"I was happy with my wife. We would argue about money and the hardships we faced but we always made up."
She was a "very good mother" and her income helped support the family but she would save her overtime earnings, says Mostafizar.
"I knew it was important. We both hoped for a better future."
Now his hopes are shattered.
His wife had left another garment factory with four months' salary still owed to her, he says.
"Threats by factory owners and managers to slash salaries over misconduct are nothing new to us.
"If you do not come and work, your salary will be cut - that's what they told the workers after the crack was seen. I asked Salma not to go but she did not listen."
The victims' families are now demanding those responsible be put on trial and punished for forcing them to go to work.
"They are fraudsters," says Mostafizar as he collects the body of his wife, Salma, from police in Savar.