South Korea says all but seven workers left Kaesong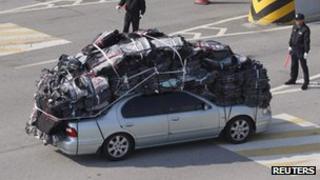 South Korea says all but seven of its workers from a joint industrial zone in North Korea have returned.
Officials said the North insisted that some South Korean staff remain to negotiate unpaid wages. They did not believe the seven would be at risk.
Work has been stalled at the complex since North Korea withdrew its 50,000 workers earlier this month.
Tensions have been high since Pyongyang's third nuclear test sparked international concern in February.
Pyongyang has been angered by tightened UN sanctions imposed after its 12 February nuclear test and by joint US-South Korea military drills, which are scheduled to end on Tuesday.
A total of 125 South Koreans left the Kaesong complex on Saturday, and the remaining 50 were expected to pull out on Monday.
In the end, South Korea confirmed that 43 had been allowed to return home, leaving seven behind "to settle accounting and other unresolved matters".
"As the North has said in their statements about ensuring the safety of the people who will be returning, we do not consider them at risk but we will be closely watching until all of them are back," a South Korean government official said.
The move came after North Korea rejected talks on the industrial park, which was launched in 2003 to boost inter-Korean ties.
Situated just inside North Korea, it is home to 123 South Korean companies which employ North Korean workers, and provides the North with badly-needed hard currency.
Awaiting approval
Earlier this month, North Korea blocked South Korean workers from entering the zone. It withdrew its 53,000 workers from the industrial park a few days later.
Although the North has restricted entry to Kaesong Industrial Complex in the past, this would be the first time that all South Korean workers had withdrawn.
Pyongyang said last week it would not hinder those leaving the Kaesong complex.
Some of the workers were reportedly reluctant to leave Kaesong, fearing that company assets would be seized.
Han Jae-kwon, chairman of the Association of Kaesong companies, said earlier: "Those remaining workers are there to take charge of products owned by our customers and raw materials, so we want detailed measures to protect them after the workers have been pulled out."
The South Korean government said it had set up a taskforce to help companies who had been forced to halt operations at Kaesong.
The taskforce would "assess damages suffered by the firms with factories at Kaesong and... devise comprehensive and practical supportive measures," the prime minister's office said in a statement.
The government had discussed a variety of support measures, including the possibility of offering businesses loans from the inter-Korean co-operation fund, the statement added.
Meanwhile, North Korea seems to be gearing up for a major land and air military exercise, South Korean news agency Yonhap said on Sunday, citing a government source.
A US citizen is also due to be tried soon on charges of attempting to overthrow the North Korean government, according to the North's official news agency KCNA.
Pae Jun-ho, who is known in the US as Kenneth Bae, was held last year after entering North Korea as a tourist.
No date for the verdict has been confirmed, and it is not clear what sort of sanction Mr Pae might face, although North Korea's criminal code provides for life imprisonment or the death penalty for similar offences.