Tokyo governor in apology over Olympics comments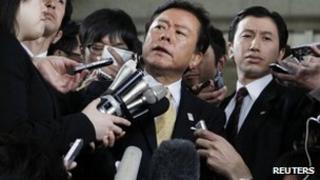 The governor of Tokyo has apologised for comments he made about rival Istanbul's bid for the 2020 Olympic Games.
Naoki Inose, who is chairman of Tokyo's Olympic bid committee, made the comments in an interview in New York.
He appeared to criticise facilities in Istanbul and said that Islamic countries were "fighting with each other".
Mr Inose said his remarks had been "inappropriate".
"I am apologising as my remarks could be misinterpreted by people in the Islamic world, so I am clearly apologising for this," he told a news conference.
Mr Inose replaced outspoken predecessor Shintaro Ishihara, who resigned late last year to contest Japanese general elections in December 2012.
"For the athletes, where will be the best place to be? Well, compare the two countries where they have yet to build infrastructure, very sophisticated facilities," he was quoted as saying in an article published late last week by the New York Times.
He also said: "Islamic countries, the only thing they share in common is Allah and they are fighting with each other, and they have classes."
His remarks prompted fears Tokyo's bid could have broken International Olympic Committee (IOC) rules which prevent candidate cities commenting on their rivals.
Turkey's sports minister called the remarks "unfair and disheartening", Reuters news agency reported.
Mr Inose said that from now on he would campaign "strictly in accordance with the IOC rules".
The ballot is due to take place on 7 September, with Madrid in the running as well as Istanbul and Tokyo.