Profile: Rana Plaza owner Mohammad Sohel Rana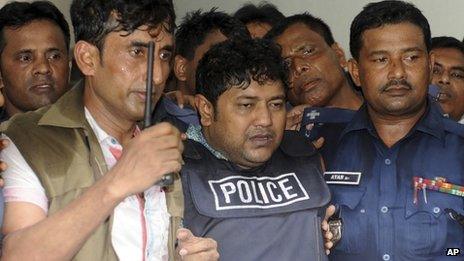 The collapse of Rana Plaza, an eight-storey building in the town of Savar that housed five garment factories, has turned one man into Bangladesh's national hate figure.
Mohammad Sohel Rana, the owner of the building, is desperately trying to prove he was not to blame for the disaster on 24 April, which cost more than 500 lives.
But given his background - and the alleged history of Rana Plaza itself - he has found little sympathy among local Bangladeshis or the media. Even the governing Awami League (AL), with which he has been closely linked, has distanced itself from him.
After a foray into student politics in the mid-1990s, Mr Rana set up a number of businesses, apparently under the patronage of politicians. Locals claim to remember him as a school drop-out from a poor family who made money quickly.
But the collapse of his building has put Mr Rana under the national spotlight, and led to new allegations about his business success.
"Rana controlled an underworld gang in the area, and used it to run drugs and extortion business,'' the vice-president of Dhaka district Awami League, Ashrafuddin Khan, told the BBC.
The 35-year-old Mr Rana has been described in the local media as the archetypal Bangladeshi muscleman, known locally as a "mastan", or neighbourhood heavy. His power, influence and money came from providing muscle to local politicians.
"He is known as a thug, a gangster in the area," Firoz Kabir, chairman of the Savar sub-district council, told the BBC. He declined to give details.
The allegations against Mr Rana have not been verified by the BBC, and he cannot be reached in custody for comment. His father and uncle are also in custody and the BBC was unable to reach any other relatives for comment. No lawyer has yet come forward to represent him.
Most of the anger against Mr Rana stems from the fact that workers were sent back into the building even after cracks had appeared the day before the collapse.
Mr Rana has said, after his arrest, that it was the factory owners who had insisted on opening for business on 24 April. Several of the factory owners are also in police custody.
Mr Rana's rise to local prominence accelerated after the 2008 elections, when Touhid Jong - widely known Murad Jong - became the local member of parliament. Rana was already close to the MP.
''Rana became powerful under Murad Jong's patronage,'' said Mr Khan, a former member of parliament from the area.
But like the Awami League, Mr Jong later denied any connections with Mr Rana - even though Bangladeshi papers and online sites published pictures of the two together.
Mr Khan says that it was under the MP's patronage that Mr Rana became a joint convenor of the local unit of the Jubo League, the AL's youth wing.
Although the party did not recognise this promotion, Mr Rana used the title to his advantage.
''The Jubo League position gave Rana influence locally and he used it to conduct his illegal businesses," Mr Khan alleged.
According to local media, officers from the police force's Rapid Action Battalion - who arrested him on 28 April - also accuse Mr Rana of being involved in seizing land in the area on behalf of his political masters.
During the 1990s Savar became a sought-after place to locate factories and acquire land for homes, because of its proximity to Dhaka. In the rush, illegal land-grabbing became rife.
According to Mr Khan, Mr Rana set up two property-related businesses in partnership with other politicians and officials. But Mr Khan alleged that most of the land acquired for their deals was ''grabbed forcibly''.
One such piece of land was where Rana Plaza stood before it collapsed.
Rabindranath Sarkar, owner of a building adjacent to Rana Plaza, told the BBC that the land had originally been acquired jointly in his name and that of Sohel Rana's father, Abdul Khalek.
"But Sohel Rana and his family grabbed the land forcibly and built the building even though it was bought in my name,'' Mr Sarkar claimed.
He said he went to government offices looking for redress, but did not get any response because of Mr Rana's political influence.