Benazir Bhutto still at heart of PPP election campaign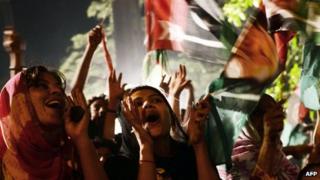 At the Bhutto family home in Naudero, Larkana, the mood in the run-up to Pakistan's elections is subdued.
In one of the back rooms sits a woman with spectacles and a white shawl wrapped around her head. Surrounded by dozens of women workers, she is busy finalising her party's plans for polling day.
She is not just any candidate: Faryal Talpur is President Asif Zardari's sister and is standing for election in the constituency of former Prime Minister and Pakistan People's Party (PPP) stalwart Benazir Bhutto.
Known as Addi Faryal - or Sister Faryal in Sindhi - Ms Talpur has been the most powerful woman in the party for the last five years.
She does not hold an official position, but has exerted considerable influence on government and party affairs.
As the head of state, Mr Zardari cannot campaign openly for his party.
His son and the young leader of the party, Bilawal Bhutto-Zardari, has stayed away from the campaign trail, apparently amid security concerns over a possible Taliban attack on parties the militants see as being too liberal.
This has effectively left Ms Talpur in charge of the PPP's unusually low-key campaign.
Low-key campaign
The absence of a central charismatic figure from the family addressing mass rallies has hampered the PPP's efforts to rally its support base.
Party candidates have faced tough questions by angry voters over their performance.
Larkana has been a stronghold of the Bhuttos for more than four decades.
In 2008, the PPP was swept into power after the death of its leader, Benazir Bhutto, because there was a wave of sympathy for the party.
Five years on, in this election, the party still appears to be using her death to get itself re-elected.
The PPP's evocative TV advertisement campaign revolves around Ms Bhutto's assassination and makes little or no mention of the last government's performance in office.
"Today, when I ask for your votes in the name of Benazir Bhutto it is because she remains our leader, she is a hugely symbolic figure," says Ms Talpur.
She vehemently defends her party's track record in office, saying the government tried its best to deliver on its promise of building roads, schools, hospitals and creating jobs.
But there is a growing sense of disillusionment with the party. Many voters say they feel let down by their government and accuse local leaders of being out of touch.
'Unprecedented corruption'
Imdad Ali Mirbahar runs a grocery shop in a windowless mud hut. He says he has voted for the PPP all his life - but not anymore.
"Their ministers didn't care much for the people - like Benazir used to," he says.
"They were busy buying properties and expensive cars while poor people like me were suffering."
Disappointment with the PPP is allowing smaller regional parties to make in-roads into the Bhutto heartland.
Mehtab Akbar Rashdi, a former TV personality and retired civil servant. She is contesting polls for the first time on the ticket of Pakistan Muslim League-Functional.
She feels voters are determined to punish the previous government through the ballot box.
"People are not looking to the PPP for solutions anymore," she says.
"They have experienced bad governance, lawlessness and unprecedented corruption under the PPP. So while they may still feel emotionally attached to the Bhuttos, they are not going to vote for their party candidates."
It is true that the PPP has deep roots among millions of rural poor, especially in Sindh province. And unlike most parties, workers and leaders of the PPP have a long track record of standing up to military dictators in Pakistan.
But the political landscape in Pakistan appears to be shifting - slowly but surely.
There is a growing desire among voters for change, and to see their elected leaders held to account.
For many concerned with Pakistan's democratic evolution, that can only be a good thing, regardless of who comes out on top.
As for President Zardari's party, many believe its parliamentary strength may well be reduced significantly in these elections, even if the PPP remains a key player in Pakistani politics.