Singapore church leaders tried on corruption charges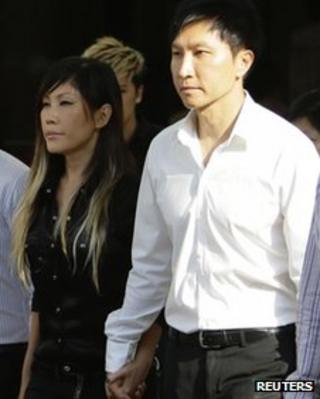 The trial has started in Singapore of church leaders accused of misusing funds to boost the singing career of the founding pastor's wife.
Pastor Kong Hee is one of six accused of misusing up to $40m (£26.2m) of City Harvest church funds to help his wife, Ho Yeow Sun, also known as Sun Ho.
The six are charged with conspiracy to commit criminal breach of trust.
They have yet to enter pleas but could face up to 20 years in jail if convicted.
The misuse of funds at the evangelical church, one of Singapore's richest, is alleged to have happened between 2007 and 2008, local media say.
Mr Kong and his wife maintained her pop music career was a way of reaching out to non-Christians.
Prosecutors say, however, that church investment in two companies was a "sham" to further Ms Ho's career.
City Harvest has an estimated 30,000 members. It also has affiliate churches in Malaysia, Indonesia, India, Taiwan, Brunei and Australia.
Its services - attended by thousands - are more pop concert than Sunday mass says the BBC's South East Asia correspondent, Jonah Fisher.
Ms Ho, whose music career began in 2002, has several albums in Mandarin to her name and is known in China and Taiwan.
She has also worked with US music industry figures such as songwriter Diane Warren and rapper Wyclef Jean, who produced her English album.