Chinese premier pledges Pakistan energy crisis help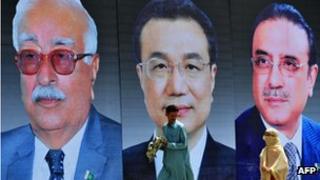 Chinese Premier Li Keqiang has said that co-operation on power generation in Pakistan should be a priority for both countries.
In a visit to Pakistan, Mr Li said they should focus on "priority projects in connectivity, energy development and power generation" in addition to building a bilateral economic corridor.
Mr Li arrived in Pakistan for trade talks on Wednesday after leaving India.
He is due to hold meetings with politicians including Nawaz Sharif.
Following elections last week Mr Sharif is expected to form the next government.
Mr Li told Pakistani media that there was still "great potential" for Sino-Pakistan relations.
Bilateral trade last year rose above $12bn (£8m) for the first time and both sides are aiming to reach $15bn in the next two or three years.
But Pakistan's energy crisis has led to power cuts of up to 20 hours a day, bringing its economy to a near standstill.
The power shortages have sparked violent protests, crippling key industries and resulting in thousands of job losses in a country already having to deal with high unemployment, a weak economy, widespread poverty, sectarian bloodshed and a Taliban insurgency.
China has already provided Pakistan with two nuclear reactors, each with a capacity of 300 MW, at Chasma in Punjab province.
The two countries are also planning to build two more reactors with the same capacity at Chasma - a development which the US has warned could boost Pakistan's nuclear weapons programme.