Malaysia arrests top opposition figures for sedition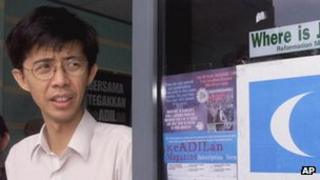 Malaysian police have arrested three prominent opposition figures, including Keadilan party vice-President Tian Chua, under the Sedition Act.
A student has also been charged with sedition over his call for protests against alleged election fraud.
Tensions have been high following the 5 May elections, where the ruling coalition secured a simple majority.
It was Barisan Nasional 's worst election result ever, securing just 46.6% of the popular vote.
The government said that the elections were free and fair, but the Anwar Ibrahim-led opposition said the results were marred by fraud, alleging multiple irregularities.
The opposition have held several rallies around the country to protest, drawing crowds.
'Politically-motivated prosecution'
Right after his contentious victory in the recent general election Prime Minister Najib Razak made an appeal for national reconciliation, the BBC's Southeast Asia correspondent Jonathan Head reports.
The prospects for that, never promising, have now collapsed following the arrest of such a prominent opposition politician, our correspondent adds.
On his Twitter feed, Tian Chua said he was detained as he was about to board a flight. He urged Malaysians not to be "overtaken by fear", but to "continue to assemble peacefully & have faith".
Opposition activists Haris Ibrahim and Tamrin Ghafar are also being held by police.
There are also reports of police raiding newspaper offices and seizing opposition newspapers.
In a statement, the Keadilan party called for the "immediate release of Tian Chua and Haris" and an end to the "politically-motivated prosecution" of opposition and activists.
Mr Najib's "talk of a national reconciliation after the recent elections... has proven to be meaningless," it said.
Meanwhile, Adam Adli was arrested earlier this month after he reportedly told members of a public forum to "go down to the streets to seize back our power", AP news agency reported.
The 24-year-old pleaded not guilty to the charge at a Kuala Lumpur court, and was released on bail on Thursday. If found guilty, he faces up to three years in jail.
A Malaysian Government spokesperson said that the recent arrests were a matter for the police.
"The detentions came after the police received numerous reports against the defendants by members of the public," they said.
"In such circumstances the police are required to investigate and are following due and proper process."
Activists have argued that Malaysia's sedition law is used to stifle dissent.
"The [sedition] law is open to abuse," Fadiah Nadwa Fikri, Mr Adli's lawyer, told AFP news agency.
"It's an infringement to freedom of speech and freedom of assembly."
In a statement on Wednesday, human rights group Amnesty International called for Mr Adli's "unconditional release" and said that the Sedition Act "has been implemented over the years to repress political dissent".
Prime Minister Najib Razak said in July 2012 that the government would seek to repeal Malaysia's sedition law, replacing it with a National Harmony Act. However, the law is currently still in force.