Five reasons why Imran Khan gained in Karachi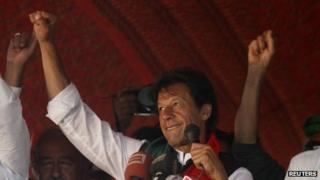 One of the biggest surprises in recent Pakistani elections was the gains made in the southern city of Karachi by Imran Khan's PTI party. It became the second largest party in the city after winning a national assembly seat and three provincial assembly seats. Karachi-based journalist Adil Jawad assesses the reasons behind the PTI's success.
Youth and Social Media
Karachi has a disproportionate number of youths within its population and a high number of internet users. This appears to have made up for the fact that Mr Khan's party did not hold any political rally in the city of 20 million people during the election campaign. Traditionally political parties in Karachi have competed to provide transport facilities and even lunch to voters during an election campaign. Mr Khan and his PTI party were able to reach voters' hearts in a much more 21st Century way - by using the internet to target voters weary of the city's violence, vote rigging and corruption.
Populist slogans
Karachi voters were also attracted by Imran Khan's populist slogans and his pledges to build a new Pakistan. They could relate to his ceaseless allegations of corruption within the older parties. As a business hub, Karachi has constantly suffered from political instability, which has led to the closure of hundreds of industries and unemployment. Karachi attracts people from all over Pakistan in search of jobs. But in the last five years its business community has shifted to other parts of the world including Malaysia and Bangladesh. Corruption allegations against business regulatory bodies have increased and extortion by criminal groups supported by political parties has sometimes made life intolerable for the business community. In fact the frustrations of large sections of this influential community not only led them to transfer their support to the PTI but also to give the party significant funding.
Charisma
Like in any other big Pakistani city, the people of Karachi are cricket crazy and adore Imran Khan, who was the skipper of World Cup winning national team in 1992. When he announced the establishment of a free cancer hospital named after his mother, Karachi citizens were the biggest donors. When Mr Khan began his political career, people initially did not take him seriously. Those perceptions began to change however when he held a massive public rally in Karachi on 14 August (Independence Day) 2011 which proved to be a turning point. Mr Khan went on to hold another equally large rally the following December.
Imran the alternative
Ethnic divisions have up until now been clearly noticeable in elections in Karachi over the last two decades. The MQM - the party mostly comprising the descendants of Urdu-speaking migrants to Pakistan at the time of the partition of India in 1947 - has traditionally attracted the support of this community. Likewise Karachi's largest ethnic minority - the Pashtun community - has traditionally voted for parties which represent Pashtun interests. The Sindhi and Baloch areas of the city usually support the Pakistan People's Party (PPP). But an analysis of the latest voting patterns shows that people in 2013 in part appear to have risen above ethnic and linguistic identities to vote for the PTI.
Militancy and lawlessness not wanted
Karachi has endured some of the worst violence in recent years. According to the Citizen-Police Liaison Committee, more than 2,000 people were killed in ethnic, political and sectarian attacks in 2012. The major political parties of the city, the MQM, the PPP and the ANP have all accused each other of fomenting the violence. The PTI itself has been on the receiving end of some of this violence: soon after the elections its vice-president, Zahra Shahid Hussain was shot dead outside her Karachi home by gunmen on a motorcycle. An overwhelmed police force has often found it difficult to respond to organised crimes such as extortions, kidnappings and bank robberies. The PTI was the only untested party in the elections, untainted by allegations of corruption and violence. It has never been accused of having a militant wing or of being involved with or supporting any powerful criminal group. In effect it was the only party that offered Karachi's beleaguered voters a different narrative.
Adil Jawad is an Express Tribune journalist based in Karachi.