Nurse pleads guilty to deadly Sydney nursing home blaze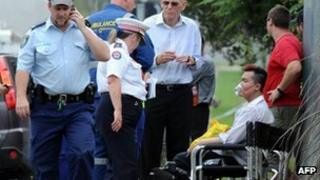 A nurse who started a fire at a Sydney nursing home has admitted 11 counts of murder.
The guilty plea came as Roger Dean, 37, went on trial over the 18 November 2011 blaze at the Quakers' Hill Nursing Home.
The fire engulfed a building that was home to dozens of elderly residents.
Five people died at the scene or in the immediate aftermath of the fire, and six more people died later as a result of their injuries.
Mr Dean, who also admitted eight counts of grievous bodily harm, will be sentenced at a later date.
During the fire hundreds of fire fighters battled flames and plumes of thick smoke to evacuate more than 80 elderly residents.
The nursing home had no sprinkler system - something which is now mandatory in such facilities in the state of New South Wales.