Briton dies in snorkelling accident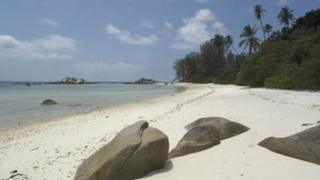 A British woman has died in Malaysia after reportedly being hit by a boat while snorkelling.
Madaline Cole died off Perhentian Bersar Island on 27 May, the Foreign Office said. She was from Hereford.
She was struck by a boat's propeller, Malaysia's state news agency Bernama reported. Malaysian police are investigating.
Consular assistance was being provided to her family "at this difficult time," a Foreign Office spokesman said.
An Australian male companion was also injured.
Besut police chief Superintendent Kamaruddin Mohd Zakaria said the woman died while being taken for treatment by the boat operator involved, Bernama reported.
She had serious injuries to her legs and torso.
Perhentian Bersar is part of the Perhentian Islands, about 10 nautical miles off the north-eastern coast of West Malaysia in the state of Terengganu.