Burma reaches deal with ethnic Kachin rebels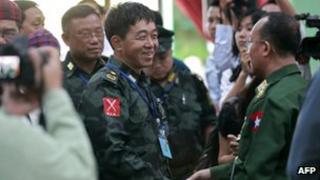 The Burmese government and ethnic rebels from the Kachin Independence Organisation (KIO) have reached a seven-point deal.
The agreement, signed in the capital of Kachin state, Mitkyina, includes working towards a ceasefire and redeploying armed forces on both sides.
Talks on the political status of Kachin would come at a later stage.
Sporadic fighting has killed hundreds since a ceasefire between the army and the KIO broke down in 2011.
Tens of thousands of civilians have been displaced by the violence, which reignited in June 2011 after a 17-year truce failed.
Vijay Nambiar, UN Secretary-General Ban Ki-moon's special adviser on Burma, was present as an observer during the three-day talks. Representatives from China and other ethnic minorities were also in attendance.
This deal is the culmination of eight rounds of talks over a year-and-a-half, and a testament to the determination of Aung Min, the minister leading the government side, says the BBC's Jonathan Head in Bangkok.
The KIO had originally insisted that a ceasefire alone was not enough. It wanted to bring in international monitors and start political negotiations on autonomy for the Kachin.
It seems to have settled for a ceasefire for now, trusting the clause in the seven-point agreement that promises political talks in the future, our correspondent says.
The euphoric reception the KIO delegation received from the public at the first talks to be held in the government-controlled Kachin capital of Mitkyina will have given a welcome boost to their morale, our correspondent adds.
Previous talks have been held across the border in China, in Thailand and just inside Burma.
The Burmese military was widely condemned late last year when it used air strikes and heavy artillery to bombard KIO positions. The KIO has been fighting for autonomy for more than half a century.
Most of the fighting has centred around Laiza, where the Kachin state headquarters are based, near the Chinese border.