Khmer Rouge leader Nuon Chea expresses 'remorse'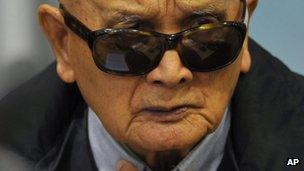 Former top Khmer Rouge leader Nuon Chea has expressed remorse for atrocities committed under the Maoist regime and acknowledged a sense of responsibility.
Nuon Chea, 86, is on trial for genocide and crimes against humanity.
The deputy leader under Pol Pot's regime was responding to questions from family members of those who died, at the UN-backed tribunal in Phnom Penh.
Fellow defendant Khieu Samphan, the regime's former head of state, also issued a rare apology to relatives.
Up to two million people are believed to have died during the four years of Khmer Rouge rule from 1975-1979.
Those believed to be enemies of the regime were tortured and killed, while hundreds of thousands more died from starvation or overwork because of policies that emptied the cities and forced people into the fields.
The regime's leader, Pol Pot, died in the late 1990s and to date, only one senior-level Khmer Rouge figure has been convicted of crimes committed during that era.
Both Nuon Chea and Khieu Samphan have said in the past that they believed they were acting in the best interests of the nation and had been unaware of the full extent of killings under the regime.
Speaking in Phnom Penh on Thursday after representatives of ordinary people whose families were killed addressed the tribunal, Nuon Chea said he was not trying to avoid blame.
"As a leader, I must take responsibility for the damage, the danger to my nation," he said, offering "deepest condolences" to relatives of those who died.
"I feel remorseful for the crimes that were committed intentionally or unintentionally, whether or not I had known about it or not known about it," he later added.
Khieu Samphan also offered a "sincere apology" to the court, but - like Nuon Chea - said he was "not aware of the heinous acts committed by other leaders that caused tragedy for the nation and people".
Tribunal spokesman Lars Olsen welcomed the statements, saying: "Many victims have waited more than 30 years to hear any statement of apology or regret from leadership figures in the Khmer Rouge."
To date, the only top official convicted in connection with crimes committed under the Khmer Rouge regime is chief jailer Kaing Guek Eav, known as Duch.
He was sentenced to life imprisonment for his role in running the notorious Tuol Sleng prison, where thousands of inmates were killed.
Two other top officials were to be tried but one, former foreign minister Ieng Sary, died in March. His wife, Ieng Thirith, was ruled incapable of standing trial because of illness.
Rights groups and campaigners have criticised the pace of the trial and voiced fears that the age of its remaining two defendants may mean that justice is not served.