How talking at Asia security meet lessens US China tensions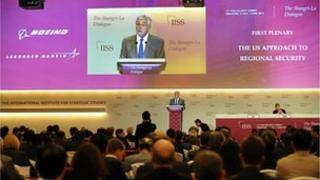 A security conference in Singapore bringing together senior US and China military officials has witnessed a frank exchange of views on the policies of the two countries, as BBC Diplomatic correspondent Jonathan Marcus found out.
It is easy to dismiss security conferences like this one as lavish talking shops which achieve little. But just sometimes the talking is very much the whole point of the matter.
Take the military relationship between China and the United States. Often uneasy, sometimes tense, and frequently characterised by mutual misunderstanding.
Over recent years both sides have genuinely tried to step up their military-to-military relationship.
Ringside seat
This is seen as crucial to building trust between the two countries. But most of the time this is all behind closed doors.
Rarely does one get a ringside seat at these exchanges.
But here at the Shangri La Dialogue it has been possible to see the military-to-military relationship at work.
It began earlier in the day after the US Defence Secretary Chuck Hagel had set out details of how the US "re-balance", as they call it, towards the Asia-Pacific was being fleshed out.
This amounted to more warships, more advanced aircraft being sent to the region and new innovative ways of deploying US resources.
China 'not convinced'
He insisted this was intended to reassure US allies but it was not directed, it seems, at anyone in particular.
Well, up stood Major General Yao Yunzhu, the Director of the Centre for China-America defence Relations at the People's Liberation Army - the PLA's Academy of Military Science in China.
In her green uniform and speaking fluent English she politely, but firmly, put it to Mr Hagel that Beijing was simply not convinced by his explanations and saw Washington's new strategy as a way of containing a rising China.
Fast forward to the afternoon and General Yao appeared on a panel discussing ballistic missile defence along with US Air Force General Michael Keltz. He's the Director of Strategic Planning and Policy for US Pacific Command.
He and General Yao clearly knew each other from past encounters and both put their case in frank terms to the audience.
Polite engagement
There were, I should say, two equally fascinating participants, one Russian and one South Korean.
This was a polite engagement between the US and Chinese generals. But it was nonetheless frank and to the point.
General Yao made it clear that China was opposed to the ballistic missile defence plans of the US and its allies in the region.
"It was", she said, "detrimental to strategic trust" between Washington and Beijing. Again this was something seen in China as a form of US containment.
For his part General Keltz rejected such ideas. He underlined that this this was all about the threat from North Korea.
These defences were not intended or designed to counter the strategic deterrent forces of China. The US was not going to change its policy or that of its allies in the region.
But he clearly hoped for a much more extensive dialogue with the Chinese military to try to persuade the PLA leadership that they had nothing to fear.
"Better military-to-military relations mean we have the opportunity to discuss these issues," he said.
"Today", he pointed out, "there were two Generals - Chinese and American - debating this openly in a room.
"Not so long ago," he noted, military-to-military ties rested on decisions as to whether another US table-tennis team or a military band should be sent to Beijing!"