Kyrgyz protesters lift blockade of Centerra gold mine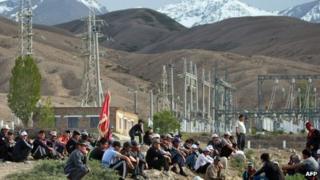 Protesters have lifted their days-long blockade of a Canadian-owned gold mine in Kyrgyzstan.
About 1,000 people besieged the Kumtor mine, demanding its nationalisation and better social benefits.
Prime Minister Zhantoro Satybaldiyev visited the area and told protesters the government was in negotiations about ownership of the mine.
A state of emergency was declared on Friday after clashes broke out between police and protesters.
The mine, owned by Canada's Centerra Gold group, is one of Kyrgyzstan's most valuable assets, accounting for 12% of its GDP.
Protesters calling for a bigger share of the mine's profits blocked the main road leading to the capital of Bishkek and cut power supplies, prompting the president to declare a state of emergency in Dzhety Oguz district in the northern Issyk Kul region.
At least 50 people were wounded in clashes with police, who used tear gas to fend off stone-throwing protesters on Friday.
In a bid to ease tensions, Prime Minister Satybaldiyev visited the site and updated protesters about government talks with Centerra Gold.
They are negotiating over the creation of a new company from two existing subsidiaries which would be registered in Kyrgyzstan instead of Canada, a government statement said.
"The company Kumtor must work. Kumtor is the future of Kyrgyzstan," Mr Satybaldiyev was quoted as saying.
Following his visit, the protesters were reported to have dispersed.
The main road has been unblocked and power restored, local officials said.
The prime minister said the protest caused $4m in damages.
However, tensions appear to be continuing in the south-western city of Jalalabad where some 300 anti-Centerra protesters have reportedly stormed the regional administration building.
Leading protester Chyngiz Abdumomunov told the Associated Press they would not leave the building until the government meets their demands, which includes the release of several opposition figures jailed over previous unrest.
Meanwhile, Kumtor told Russian news agency Interfax it is preparing to resume operations as soon as supplies of fuel and food arrive at the mine.