Afghan children die as suicide bomber targets soldiers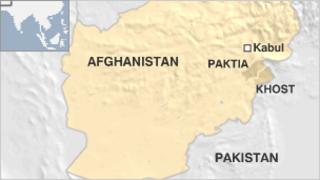 A suicide bomber has killed at least 13 people, 10 of them children, in an attack on a military patrol in eastern Afghanistan, say police and Nato.
Two coalition soldiers and an Afghan policeman also died in the blast.
The bomber, who was on a motorcycle, struck at a market in Samkani district near the Pakistan border. About 20 other people were injured.
Police say a local school had just let pupils out for lunch. The blast follows a spate of attacks by the Taliban.
The police chief in Paktia province, where the attack happened, said the bomber detonated his explosives around midday.
Gen Zalmay Oriakhel told the BBC a convoy of international forces and Afghan National Army soldiers was passing the market when the bomb went off.
It is not clear how old the school children are. Reuters news agency quoted a witness who visited the hospital where the casualties had been admitted as saying most were pupils aged under 12.
In recent weeks there has been a series of attacks in Afghanistan, where Nato and Afghan forces are battling the Taliban and other militants.
In a separate attack on Monday, seven people were killed by a roadside bomb in the eastern province of Laghman, officials said.