Australian high roller loses gambling lawsuit bid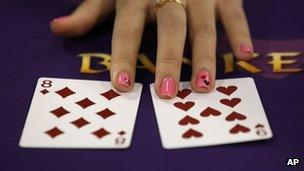 An Australian businessman has lost a court bid to sue a casino over his gambling losses.
Harry Kakavas accused Melbourne's Crown Casino of taking advantage of his pathological gambling problem.
He turned over almost A$1.5bn ($1.5bn; £0.95bn) at the venue between June 2005 and August 2006, leading to losses of A$20m ($17m; £13m).
However, Australia's top court dismissed his bid and said that casino had not behaved unconscionably.
Mr Kakavas said Crown Casino had enticed him with incentives and use of the casino's private jet, despite knowing that he had a gambling addiction - claims the casino denied.
However, in a statement, the High Court of Australia said that Crown Casino "did not act unconscionably in allowing the appellant to gamble and lose large sums of money".
Mr Kakavas' gambling problem "was not a kind of special disadvantage that rendered him susceptible to exploitation," it said.
"He was able to make rational decisions in his own interests, including deciding from time to time to refrain from gambling altogether."