North and South Korean government-level talks on hold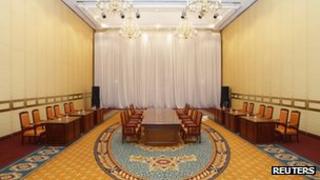 South Korea has said high-level talks will not take place as scheduled with North Korea in Seoul on Wednesday.
The two sides agreed on Monday to the two-day talks, expected to focus primarily on joint economic projects.
But on the eve of the meeting, the two sides remained unable to agree on the composition of their delegations, officials in Seoul said.
The planned talks would follow months of tension in the region, after the North's third nuclear test in February.
"There will be no talks tomorrow," a spokeswoman for South Korea's Unification Ministry told Agence-France Presse news agency.
It was not immediately clear whether the talks, scheduled to take place at a hotel in Seoul, had been postponed or cancelled.
No consensus
The two Koreas had exchanged undisclosed lists of their five representatives late on Tuesday, but could not reach a consensus, reports said.
A South Korean official was earlier quoted by AFP as saying that the North had an issue with one of Seoul's delegates.
It was previously reported that Unification Minister Ryoo Kihl-jae would lead South Korea's team. But when Seoul asked Pyongyang to send his counterpart, Kim Yang-gon, North Korea refused the request.
The last time the two Koreas held high-level talks was more than five years ago.
The agreement to hold the talks - seen by analysts as a major development in itself - came in the early hours of Monday after lengthy preliminary discussions in the truce village of Panmunjom.
The Kaesong joint industrial zone, which was shut down by the North in April as tensions escalated on the peninsula, was expected to be a main talking point.
Kaesong, seen as a symbol of North-South co-operation, had run successfully for more than eight years. It is a key source of revenue for the North and the biggest contributor to inter-Korean trade.
About 53,000 North Korean workers are employed at the factory complex by more than 120 South Korean factories.
But Pyongyang withdrew its workers from Kaesong in April, apparently angered by tightened UN sanctions after its 12 February nuclear test and annual South Korea-US military drills.
Aside from Kaesong, the reunion of separated families and the resumption of tours to North Korea's Mount Kumgang were also up for discussion.