Burma Muslim jailed for petrol attack on Buddhist woman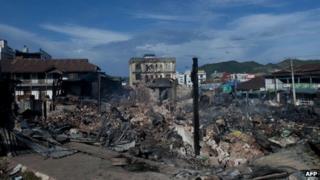 A Burmese Muslim man has been sentenced to 26 years in jail for an attack on a Buddhist woman that led to at least two days of violence in Shan State in May.
Nay Win, 48, was convicted for setting the woman alight at a petrol station.
After the attack, Buddhist youths armed with sticks roamed the streets in the town of Lashio in search of Muslims.
In recent months there have been several clashes between the two communities throughout Burma, but so far only Muslims have been jailed.
In March, at least 43 people - mostly Muslims - died in violence that erupted after an argument at a Muslim-owned shop in the central town of Meiktila.
The owner of the shop and nine other people, also Muslims, were imprisoned last month for that violence.
Ethnic violence in Rakhine state last year left nearly 200 people dead and forced tens of thousands of people from their homes.
The conflict that erupted in Rakhine involved Buddhists and Rohingya Muslims, who are not recognised as Burmese citizens.
Burns
Nay Win, described by state media as a drug addict, was convicted on Wednesday of intent to kill, assault and drug use by a court in Lashio.
The victim, 24, suffered burns in the attack, police say.
At least one person was killed and a mosque and orphanage burned down in the ensuing violence, which reportedly erupted after police refused to hand over Nay Win to a crowd.
"We arrested about 60 people found by security forces with sticks and knives during the violence," police spokesman Major Moe Zaw Linn told the AFP news agency.
He said that Nay Win was the first person to be convicted in relation to the violence.
Correspondents say that various episodes of religious unrest - mostly targeting Muslims - have exposed a deep divide in the Buddhist-majority country and cast a shadow over widely acclaimed political reforms which began when military-rule ended two years ago.