Philippines recommends coast guard charges over Taiwan shooting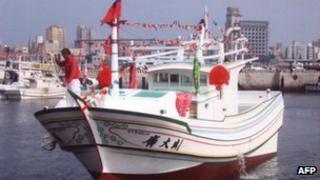 Philippine justice officials have recommended that charges be filed against coast guards who shot dead a Taiwanese fisherman in disputed waters.
Justice Secretary Leila de Lima said the findings had been presented to President Benigno Aquino for review.
The incident, which took place on 9 May, sparked a serious diplomatic row between the two sides.
The coast guard said it fired in self-defence - something disputed by the Taiwanese side.
Fisherman Hung Shih-cheng, 65, was shot dead in waters which both sides say lie within their 200-nautical-mile from shore exclusive economic zone.
The Philippines apologised for the incident, but Taiwan rejected the apology, saying it lacked sincerity.
"The NBI [National Bureau of Investigation] has recommended the filing of criminal and administrative charges against the Philippine coastguard personnel," Ms De Lima told Agence-France Presse news agency.
She said specific charges are yet to be disclosed pending a review from Mr Aquino's office.
Meanwhile, a Taiwanese official in the Philippines said they will wait for the final report before issuing an official statement.
Last month, the Philippines and Taiwan launched parallel investigations into the incident.
Taiwan has also imposed a host of economic measures against the Philippines, including suspending visa processing for Filipino workers and cutting trade exchanges.