Qatar jails five people over fatal shopping centre fire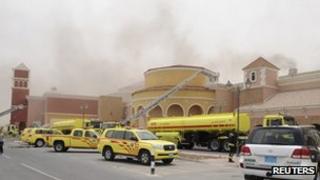 Five people, including a member of Qatar's ruling family, have been sentenced to jail in connection with a deadly fire at a shopping centre.
Nineteen people, most of them children at a nursery, died in the blaze in Doha last year.
A government investigation found that the centre's operators had broken a series of safety laws.
Sheikh Ali Bin Jassim Al-Thani, who co-owned the nursery with his wife, was sentenced to six years in prison.
The fire was caused by an electrical fault at the Gympanzee nursery in Doha's Villaggio Mall in May 2012.
It claimed the lives of 13 children - including triplets from New Zealand - four teachers and two firefighters.
Rescuers reportedly had to break through the roof to get to the children when a staircase collapsed, trapping them inside the building.
The nursery had no emergency fire exit, and a government investigation found that staff had failed to respond adequately when the fire broke out.
As well as Sheikh Al-Thani - Qatar's ambassador to Belgium - and his wife, three other people were sentenced in relation to the blaze.
All of them are still free, pending the result of an appeal.