Burmese leader defends 'anti Muslim' monk Ashin Wirathu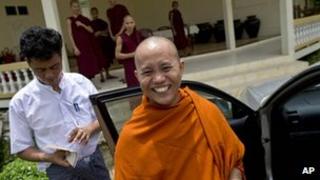 Burmese President Thein Sein has defended a Buddhist monk accused of fomenting a wave of anti-Muslim violence in the country.
US Time magazine currently has Ashin Wirathu on its front cover under the title "The face of Buddhist terror".
Thein Sein said the report undermined efforts to rebuild trust between faiths and that the monk's order was striving for peace and prosperity.
The monk has called Muslims a scourge threatening Burma's Buddhist character.
A statement on the president's website said the Time magazine report "creates a misunderstanding of Buddhism, which has existed for thousands of years and is the religion of the majority of our citizens".
"The government is currently striving with religious leaders, political parties, media and the people to rid Myanmar [Burma] of unwanted conflicts," it added.
The report was also condemned online, with a petition started over the weekend gaining close to 40,000 signatories on Monday.
Ashin Wirathu, 45, was jailed in 2003 for inciting anti-Muslim violence but was released last year as part of a prisoner amnesty.
He organised protests in support of Buddhists in Rakhine state, where violence broke out in 2012 and left at least 200 people dead and thousands displaced.
Earlier this year, central Burma saw violence between Buddhists and Muslims, which left more than 40 people dead, most of them Muslims, in March.
Ashin Wirathu's anti-Muslim sentiments are very widely shared by the Buddhist majority, and while the authorities have jailed hundreds of Muslims for involvement in the violence, very few Buddhists have been prosecuted, says the BBC's Jonathan Head in Bangkok.