Mongolia votes in presidential polls amid mining debate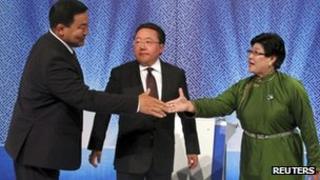 Voters in Mongolia go to the polls on Wednesday to elect a president, with mining revenue and the wealth gap topping the debate.
President Tsakhia Elbegdorj of the ruling Democratic Party faces two challengers but is expected to win a second term.
Mongolia's economy grew 12% in 2012, mostly due to foreign investment in the mining sector.
But most of its three million people live below the poverty line.
Mr Elbegdorj, a former journalist and leader of the peaceful revolution that ended Communist rule in 1990, is seen as the most friendly to foreign investors.
Elected president in 2009, he has also served as prime minister for two terms.
His closest challenger is popular former wrestler Badmaanyambuu Bat-erdene from the Mongolian People's Party.
The three-time MP, who holds a law degree, is hoping to capitalise on his popularity to win the top job.
The third candidate, female Health Minister Natsag Udval from the Mongolian People's Revolutionary Party, is a supporter of former President Nambar Enkhbayar.
Mr Enkhbayar was charged with corruption last year and is serving two-and-a-half years in jail.
A run-off is scheduled on 10 July between two candidates if no one is able to get more than 50% of the votes.
'Investor-friendly'
Mongolia has experienced economic growth over the last few years, credited to investments from foreign firms tapping into large mineral reserves.
But these projects have not been without controversy.
One hot issue in the upcoming polls revolves around how much Mongolia will earn from the $6.2bn (£4bn) Oyu Tolgoi copper mine - one of the world's biggest.
Rio Tinto and its partner company, Canada-listed Turquoise Hill Resources, own 66% of the mine, while the Mongolian government owns the rest.
The exports from the mine were scheduled to start this month but this has been delayed for reasons which remain unclear.
Political commentator Jargalsaikhan Dambadarjaa said mining was important because it was critical to the economy.
"This is the issue, and because of that people will prefer the current president who is more foreign investment-friendly," he told Agence-France Presse news agency.
"Mongolians now more and more understand the importance of foreign investment."
Another election issue is corruption - something which Mr Elbegdorj has pledged to fight "and finish what I already started".
But some Mongolians believe the country's mineral wealth is only benefiting a select few.
Grandmother Shonkhoodoi, 79, said she and her fellow herders have not seen much improvement.
"All of our resources are going to foreign countries, and it's becoming a problem and causing fighting," she told Reuters news agency on Monday.
"I wonder whether the resources are leaving through correct procedures."