Mongolia President Tsakhia Elbegdorj 'wins second term'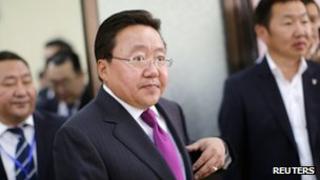 Mongolian President Tsakhia Elbegdorj has won a second term in office, preliminary election results show.
Election officials say the Democratic Party candidate won 50.2% of votes, enabling him to spend another four years in office.
He defeated former wrestler Badmaanyambuu Bat-erdene and Natsag Udval, Mongolia's first female contender for the presidency.
Mr Elbegdorj is seen as the most friendly to foreign investors.
The former journalist, who led a peaceful revolution that ended communist rule in 1990, made combating corruption and encouraging foreign investment a priority in his first term.
Mr Bat-erdene, from the main opposition Mongolian People's Party, won 41% of votes, while Ms Udval, Mongolia's health minister, gained less than 10% of the vote.
Officials say all the votes have been counted, but the result will not be confirmed until the ballots are delivered to the capital and checked a second time.
Mongolia's economy grew 12% in 2012, mostly due to foreign investment in the mining sector, but most of its three million people live below the poverty line.
The campaign had been dominated by debate on how to distribute the country's mining wealth more fairly.