New Australia PM Kevin Rudd unveils cabinet line-up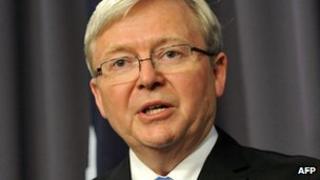 Australia's new prime minister, Kevin Rudd, has unveiled his cabinet, five days after ousting Julia Gillard as Labor Party leader.
The cabinet contains a record number of women and many Rudd backers, who replace Gillard loyalists who stepped down after the leadership change.
The foreign affairs, defence and home affairs ministers remained unchanged.
The new cabinet was sworn in on Monday and was to hold its first meeting shortly afterwards.
Kevin Rudd ousted Ms Gillard amid poll figures showing she was on course for a crushing defeat in a general election that is currently set for 14 September.
A poll on Sunday showed the return of Mr Rudd - who Ms Gillard ousted as prime minister just over three years ago - had, as expected, given Labor a boost.
The Galaxy Research poll found support for Labor - if the two main parties were compared - had jumped by four percentage points to 49%, with the Liberals on 51%.
Mr Rudd was significantly ahead of opposition leader Tony Abbott as preferred prime minister, the poll showed, with 51% to Mr Abbott's 34%.
'Strong team'
It is still not clear whether the election will take place as scheduled. Mr Rudd can move the date and Mr Abbott has called on him to make an announcement to "end the uncertainty".
Unveiling his cabinet, Mr Rudd described it as a "strong team" that he was "proud to lead", and said his government's "core task" would be to keep the economy strong.
Mr Abbott, however, described the line-up as "not even the B team, it's the C team".
Several of Ms Gillard's ministers resigned after last week's leadership vote, including Treasurer Wayne Swan and Trade Minister Craig Emerson.
They have been replaced by Chris Bowen and Richard Marles respectively.
Bill Shorten, the key power-broker who switched his backing to Mr Rudd shortly before last week's vote, was given the education portfolio.
Deputy Prime Minister Anthony Albanese will also take on the communications portfolio, making him responsible for the high-profile National Broadband Network roll-out.
Defence Minister Stephen Smith says he will resign after the next election but will remain in his post until then.