John Kerry in South China Sea progress call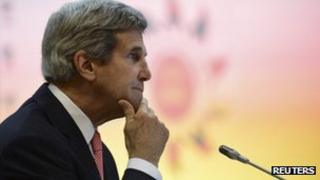 US Secretary of State John Kerry has called for progress on a code of conduct governing maritime disputes in the South China Sea.
Addressing an Asean meeting in Brunei, Mr Kerry said the US had an interest in maintaining stability in the region.
Tension over the South China Sea, where several nations have overlapping claims, has risen in recent years as China has taken an assertive stance.
Efforts to agree a code of conduct have so far been unsuccessful.
China claims a U-shaped swathe of the sea that extends well into what Unclos (UN Convention on the Law of the Sea) recognises as the 200-mile-from-shore "exclusive economic zones" of other claimants.
Both the Philippines and Vietnam have become embroiled in diplomatic spats with Beijing over areas of disputed territory and the issue has dominated recent Asean (Association of South East Asian Nations) meetings.
'Strong interest'
Mr Kerry told foreign ministers from the 10-member bloc that the US was keen to see progress on a "substantive" code of conduct.
"We have a strong interest in the manner in which the disputes of the South China Sea are addressed and in the conduct of the parties," he said.
"As a Pacific nation and a resident power, the United States has a national interest in the maintenance of peace and stability, respect for international law, unimpeded lawful commerce and freedom of navigation in the South China Sea."
On Sunday China agreed to hold talks with Asean in September on a plan to ease tensions, after the Philippines accused Beijing of a "massive military build-up" of the South China Sea.
"The Philippines views with serious concern the militarisation of the South China Sea," Foreign Secretary Albert Del Rosario told the meeting.
"The overwhelming presence of Chinese ships, including military and paramilitary ships, and the issuance of threats pose serious challenges for the region as a whole."
Last year saw a lengthy stand-off between Manila and Beijing over the Scarborough Shoal, which both claim. Since then relations between the two nations have remained cool.
Analysts say Sunday's move is significant because it shows that China is willing to negotiate a framework that could help to avoid clashes in the contested waters, reports the BBC's Karishma Vaswani from Brunei.
A "declaration of conduct " was signed in 2002 between Asean and China but it is not legally binding.
Foreign ministers from Japan, China, Russia, Australia, South Korea and the EU are also at the Asean meeting.
Mr Kerry is due to hold a bilateral meeting with his Russian counterpart at which the whereabouts of US whistleblower Edward Snowden and the conflict in Syria are expected to come up.
North Korea and its nuclear ambitions are also expected to be discussed at the summit, which finishes on Tuesday.