Altaf Hussain: Pakistan's powerful but absent politician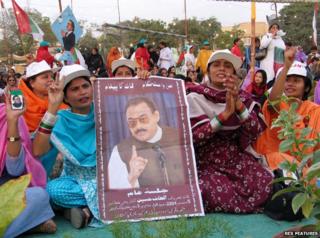 MQM party leader Altaf Hussain is one of Pakistan's longest-serving and most powerful and divisive politicians.
Mr Hussain lives in self-imposed exile in London, and has run his party from a nondescript office block in the northern suburb of Edgware since 1992. He addresses mass rallies in the southern city of Karachi by a conference telephone connected to loudspeakers.
The Muttahida Quami Movement (MQM) mostly comprises - and is supported by - the descendants of Muslim Urdu-speaking people known as Mohajirs who migrated to Pakistan from India around the time of the partition of India in 1947.
Admirers on the internet refer to him as a "tireless and fearless campaigner against feudalism" who champions "the rights for the middle class and the downtrodden poor".
His online critics, however, have accused him of being the leader of a "terrorist organisation and a land grabber" who is responsible for much of the ubiquitous violence and corruption that in recent years has blighted his stronghold in Karachi.
He is accused of no fewer than 30 murders in the city, allegations he strongly denies along with all the other criminal charges against him.
In London the MQM has been under investigation in recent years for several alleged offences in addition to the money laundering allegations which led to Mr Hussain's arrest in June 2014.
It has denied unpaid tax allegations and has been the subject of an inquiry as to whether Mr Hussain's speeches delivered from London to Pakistan amount to incitement to violence.
Mr Hussain has long argued that he could be assassinated if he went back to Pakistan to face his accusers. It is perhaps the one contention he has made from his London base on which his friends and enemies agree.
---
Who is Altaf Hussain?
Born in Karachi in 1953 to a middle-class family; studied pharmacy at university.
Formed MQM party in 1984 to represent Mohajirs - descendants of Urdu-speaking Muslims who migrated from India to Pakistan.
Requested political asylum in UK in 1992, later gained British citizenship; continues to run MQM from north London.
Karachi in fear after Altaf Hussain arrest
---
Altaf Hussain was born in September 1953 in Karachi. His middle-class family came from what is now the state of Uttar Pradesh in India and were among about nine million Mohajirs who moved to Pakistan.
A pharmacy student at the University of Karachi, Mr Hussain wasted no time in pursuing his political career representing the city's Mohajir community.
Initially these well-educated newcomers prospered in Pakistan, working in the relatively meritocratic areas of business and the civil service. Because many of them spearheaded the campaign to create the country, they slipped naturally into leadership positions.
But by the late 1970s, their disproportionate influence began to wane as Punjabis and Sindhis took up more and more places - at their expense - in schools and universities.
Mr Hussain was the first man to exploit the Mohajirs' sense of grievance. The MQM party he formed in 1984 become a major force three years later when its candidates swept urban Sindh and became the third largest political party in Pakistan's National Assembly. It has dominated Karachi's politics ever since.
But this dominance has not come without a price. Following different attacks that injured him and killed his brothers and nephews, Mr Hussain requested political asylum in the UK in 1992, later gaining British citizenship.
Some analysts say that Britain's willingness to offer him a sanctuary reflects London's desire to benefit from Mr Hussain's large powerbase in Karachi - Pakistan's main port city.
Telephone 'sermons'
The MQM says that Mr Hussain is the first mainstream politician to form a non-feudal based political party in Sindh which has succeeded in reaching out to the city's uneducated minorities.
It describes itself as a modern, secular and middle-class party that offers the best chance of opposing the rise of the Taliban in Pakistan's largest city.
But his critics - most prominently the PTI party of former cricketer Imran Khan - accuse him of cementing his power base through increasingly violent tactics. The list of alleged crimes includes running extortion rackets, demanding protection money, carrying out targeted killings and generally menacing the Karachi population.
The violence that critics associate with the MQM hit the streets of north London in 2010, when a senior representative of the party, Imran Farooq, was stabbed to death. Mr Hussain's nephew, Iftikhar Hussain, was the only person arrested in the case but later released.
Back in Pakistan matters reached a head in May 2013 when one of the PTI's best-known party activists in Karachi, Zahra Shahid Hussain, was shot outside her home.
Imran Khan went on the offensive, openly accusing the MQM of her murder.
None of these developments - or distractions as the MQM sees it - has deterred Mr Hussain from continuing to address thousands of his supporters in Karachi through his regular telephone "sermons" from London - even though some have been known to last longer than four hours.
Although the PTI ate into the MQM's vote bank in the general election of May 2013, the MQM nevertheless retained 16 out of 19 National Assembly seats in Karachi and is the second largest party in Sindh province, of which the city is capital.
Neither Mr Hussain nor the MQM look as if they are likely to lose their grip on the city in the immediate future.