US blacklists Burmese General Thein Htay over arms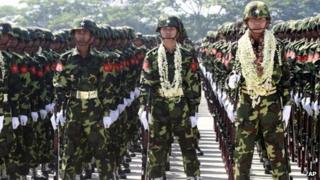 The US has blacklisted a senior Burmese army officer who it accuses of making arms deals with North Korea in defiance of UN resolutions.
The US Treasury said that Lieutenant-General Thein Htay had continued to purchase military equipment and material from North Korea.
It said that he had contributed revenue towards North Korea's nuclear and missile programmes.
The statement said the Burmese government was not being targeted.
It said that the government had taken positive steps to cut its military ties with North Korea.
In May the US extended targeted sanctions against Burma - also known as Myanmar - for another year but lifted a visa ban on officials.
The state department said at the time that the move rewarded progress and aimed to prevent backsliding on reform in Burma.
It cited human rights concerns and the continued detention of political prisoners as factors in extending the annual sanctions order.
The US statement on Tuesday did not identify the military goods involved. There has been no word from the concerned general.
"Thein Htay has disregarded international requirements to stop purchasing military goods from North Korea, the revenues from which directly support North Korea's illicit activities," Under Secretary for Terrorism and Financial Intelligence David S Cohen said in the statement.
"We will continue our efforts, alongside our international partners, to shut down North Korea's dangerous and destabilising weapons proliferation."
The US is trying to enforce sanctions to put pressure on North Korea following its recent testing of nuclear devices and long-range rockets.