South Korea 'considering Kaesong invitation' from North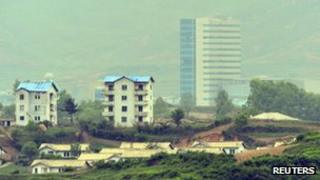 South Korea says it is considering an offer from the North to allow officials to visit the closed Kaesong shared industrial complex.
Work at the complex, which was a rare symbol of North-South co-operation, was halted in April amid high tensions in the region.
But Pyongyang said Southern companies could go in to protect their equipment from damage in the rainy season.
The offer came after some firms said they would abandon the zone entirely.
Kim Hak-gwon, a spokesman for a task force of 46 electronic and machinery makers with bases in Kaesong, told South Korea's Yonhap news agency: "Companies can survive and keep business deals with buyers only if they relocate their equipment.
"Kaesong must be reopened or they have to move elsewhere."
South Korea's Unification Ministry, which oversees communications with Pyongyang, said the offer to visit the zone had come through a newly reopened communication hotline in the Panmunjon truce village.
"The hotline was restored this afternoon after North Korea accepted our request to normalise it," the AFP news agency quoted a ministry official as saying.
But the ministry has not yet said whether the business owners will be given the necessary official permission to enter the zone.
About 53,000 North Korean workers were employed at Kaesong, working for more than 120 South Korean factories.
The zone was a key source of revenue for the North and the biggest contributor to inter-Korean trade.
But Pyongyang withdrew its workers in April, apparently angered by tightened UN sanctions in the wake of its nuclear test in February and annual South Korea-US military drills.
In addition to the Panmunjon hotline, it also cut a military hotline with South Korea and a Red Cross hotline.
Neither side has declared the Kaesong project over, but talks on restarting production there have stalled over procedural issues.