North and South Korea end talks with no deal on Kaesong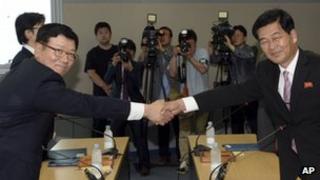 North and South Korea have ended talks on reopening a jointly-run industrial zone in Kaesong without reaching a deal, South Korean officials say.
However, both sides have agreed to meet again on 15 July for more talks, said the South's chief delegate, Suh Ho.
Over the weekend, the two sides agreed in principle to restart operations at the industrial complex.
Work at Kaesong has been suspended since mid-April, when North Korea withdrew its workers.
The move came amid high tensions after Pyongyang's 12 February nuclear test.
The Kaesong complex, which is located just inside North Korea, is home to more than 120 South Korean factories which employ some 53,000 North Korean workers.
"Talks have been concluded without any agreement reached," a spokesman for South Korea's Unification Ministry told Yonhap news agency.
The spokesman said the two sides repeatedly met during the day but were unable to resolve their differences.
"We both agreed that the complex should be maintained and further developed," Mr Suh told reporters after the two countries met on Wednesday.
The joint project is both a symbol of inter-Korean co-operation and a key source of revenue for Pyongyang.
'Big differences'
On Tuesday, a small team of South Koreans crossed into North Korea to check communication and power lines. It was the first time South Koreans had entered the zone in two months.
On Wednesday, around 100 delegates, including dozens of government officials and businessmen and engineers, entered North Korea to begin formal talks.
The visit is the first positive sign of thawing relations between the two Koreas in more than three months, but there are still big differences to bridge, the BBC's Lucy Williamson in Seoul reports.
Both sides blame the other for the suspension of operations at Kaesong, and South Korea is now demanding safeguards as a condition for reopening the zone, our correspondent adds.
Last week, some South Korean firms threatened to abandon the zone entirely and relocate their equipment.