South Korean K-pop singer Rain finishes military service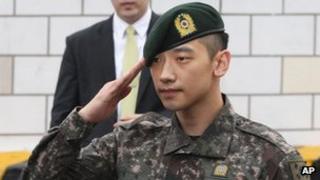 South Korean singer Rain has been officially released from mandatory military service after 21 months.
Hundreds of fans waving banners cheered as the 31-year-old, whose real name is Jung Ji-hoon, left the Defence Ministry building in Seoul on Wednesday.
He served as an "entertainment soldier" for a unit that promotes the military.
The popular K-pop star was found to have broken military rules in January after photos of him meeting an actress surfaced.
Fans cheered as Rain emerged from the ministry building, having collected his discharge papers.
"Thank you all for coming to welcome me. I'll do my best. I love you all," he was quoted by Yonhap news agency as saying.
All able-bodied South Korean men are required to serve time in the military - a legacy of the 1950-53 Korean War.
The South is still technically at war with North Korea, as the conflict ended in an armistice and not a peace treaty.
Men in military service have limited free time and are largely confined to their barracks.
But reports of Rain dating popular South Korean actress Kim Tae-hee while on official duty broke in local media and he was disciplined over the incident.
In the past, artists have been known to try to avoid military duty, which has proved unpopular with the public.
Psy - known for his global hit Gangnam Style - was made to repeat his military service after being accused of neglecting his duties.
Rain began his career in 2002 and became part of the Korean Wave of drama and popular music that has spread in Asia.
His 2004 album It's Raining sold 1m copies and he appeared in several movies, including Hollywood production Speed Racer in 2008.