Bangladesh violence erupts over Ghulam Azam war crimes verdict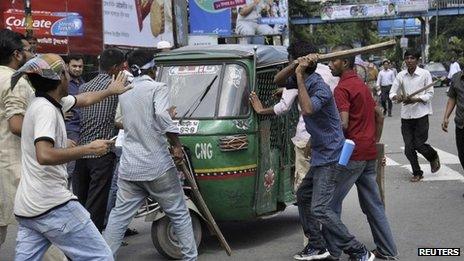 At least two people have been killed as police clashed with thousands of protesters in Bangladesh a day after the conviction of an Islamist party leader for war crimes, officials say.
Ghulam Azam, leader of the Jamaat-e-Islami party, was jailed for crimes committed during Bangladesh's 1971 war of independence with Pakistan.
Police said they opened fire after protesters attacked a policeman in Satkhira district in the south-west.
The clashes came amid a general strike.
Police quoted by the AFP news agency say that crowds went on the rampage in Satkhira attacking police with sticks, machetes and throwing homemade bombs.
Several policemen were among 12 people injured in the violence and officials say that there was an "exchange of fire" after police were attacked when they went to clear a roadblock set up by Jamaat supporters.
The court found Mr Azam, 90, guilty of five charges including conspiracy, incitement, planning, abetting and failing to prevent murder and sentenced him to 90 years in prison.
He faced more than 60 counts of crimes against humanity for his role in setting up militia groups which carried out atrocities during the war.
Mr Azam has consistently denied the charges, which his supporters say were politically motivated.
He was the fifth person to be convicted for alleged war crimes committed during Bangladesh's bitter independence war. Previous verdicts for former Jamaat leaders have led to deadly protests involving party supporters.
More than 100 people have been killed since January in political violence sparked by verdicts handed down by the International Crimes Tribunal.
Pro-government groups have also taken to the streets demanding death sentences for those being tried, accusing the tribunal of being too lenient.
On Monday Jamaat called for a general strike to protest against this latest verdict, as did another group who wanted to see the death penalty handed down, the Daily Star reported.
Human rights groups have said the tribunal falls short of international standards.
There is a range of estimates for the exact number of people killed in the nine-month Bangladeshi war of secession. Government figures suggest as many as three million people died.