Sri Lanka cricketer fined over aeroplane incident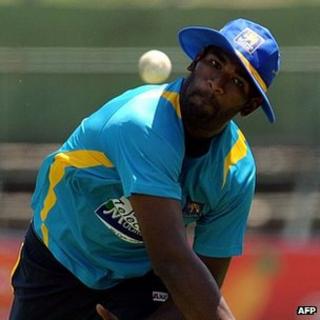 A young Sri Lankan cricketer has been fined and given a warning by the country's cricket board for trying to open an aeroplane door during a flight.
Ramith Rambukwella pulled at the cabin door on the British Airways flight from St Lucia to London Gatwick in June.
He is the son of the Sri Lankan government spokesman and minister Keheliya Rambukwella.
He and the rest of the Sri Lanka A-team were returning from a West Indies tour when the incident occurred.
Ramith Rambukwella has forfeited 50% of his tour fee and been issued with a severe warning by the chief executive officer of Sri Lanka Cricket (SLC), according to an SLC statement.
The 21-year-old said he mistook the cabin door for the lavatory and implied the mistake happened because he was half asleep, the BBC's Charles Haviland reports from Colombo.
Eyewitnesses said he seemed drunk and disorientated and was "pulling quite heavily" on the door for about two minutes until flight attendants came to calm him down.
British Airways staff were quoted by the Daily Mail newspaper as saying it would not have been possible to open the pressurised door in mid-flight but a witness described the incident as "pretty frightening".
Some of the Sri Lankan media were critical of the cricket board in March after Ramith Rambukwella was selected in the national squad for a Twenty 20 match against Bangladesh, alleging that the choice was influenced by political considerations.
But the chairman of selectors, retired batsman and government MP Sanath Jayasuriya, defended the choice, saying he was needed as a middle-order batsman and offspin bowler.
In the event, Mr Rambukwella did not play.