Australia PM Kevin Rudd defends PNG asylum deal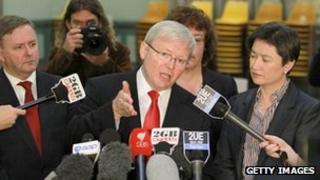 Prime Minister Kevin Rudd has defended Australia's new asylum policy, saying it targets "merchants in death".
Under an agreement signed on Friday, asylum-seekers arriving by boat in Australia will be sent to Papua New Guinea for processing.
Those found to be refugees will be settled in PNG, which is to receive Australian investment.
Critics have accused Australia of shirking obligations and outsourcing its problem to a developing nation.
The move comes as Australia tries to tackle a sharp spike in the number of boat arrivals, and just a few weeks out from a general election in which asylum is expected to be a key issue.
Kevin Rudd, who last month ousted Julia Gillard as Labor Party leader amid dismal pre-election polling figures, has described the new policy as "hard-line".
The Labor party, meanwhile, approved new rules on Monday that change how a leader can be replaced - making it harder for leadership challenges to be launched.
'Dismantled'
Speaking shortly after the party meeting, Mr Rudd said the government would "make no apology for the decision we've taken".
"These folk are merchants in death and their business model needs to be dismantled, part of this policy response is to do just that," he said.
Australia says the move is aimed at deterring people from making the dangerous journey on often over-crowded or rickety boats, several of which have sunk in recent months.
Over the weekend the government launched an advertising campaign to publicise the new policy aimed at the countries from which the asylum-seekers originate - Iraq, Iran, Afghanistan and Sri Lanka, among others.
It is also offering cash rewards for tip-offs related to people-smugglers, who use Indonesia as a transit point to launch boats bound for Christmas Island, the closest part of Australian territory.
On Sunday, protesters turned out in Sydney to condemn the plan, described by Amnesty International as "the day Australia decided to turn its back on the world's most vulnerable people".
Officials in PNG have also voiced concern over the plan, which would see the Manus island detention centre expanded to hold up to 3,000 people.
Former PNG opposition leader Dame Carol Kidu said PNG was a developing country with insufficient services in place.
"We don't have the developed systems like Australia," the Australian Broadcasting Corporation quoted her as saying.
"We are facing many problems ourselves, and to me I think it could be an increased problem. It's called the PNG solution but I think it's more of an Australia solution."
Australia's Immigration Minister Tony Burke, meanwhile, acknowledged the possibility that some asylum-seekers who are not granted refugee status could be detained indefinitely in PNG.
"One, they remain in detention. Two, they return to their home country. Three, they get settled in another country where they have a right of residence. They don't have a right of residence in Australia, but any of those three options are open," he told ABC radio.
At Australia's other offshore processing centre in Nauru, meanwhile, detainees rioted over the weekend, burning buildings.
According to Australian reports, 125 asylum seekers have been charged over the riot, which caused A$60m ($55m, £36m) worth of damage.